I had a really good experience with my herb garden last year. I stuck with it and watered it every morning and weeded it every night and it worked.
This year, Angry Man Farm is going BIGGER. You can tell I'm serious because now … I HAVE A NOTEBOOK.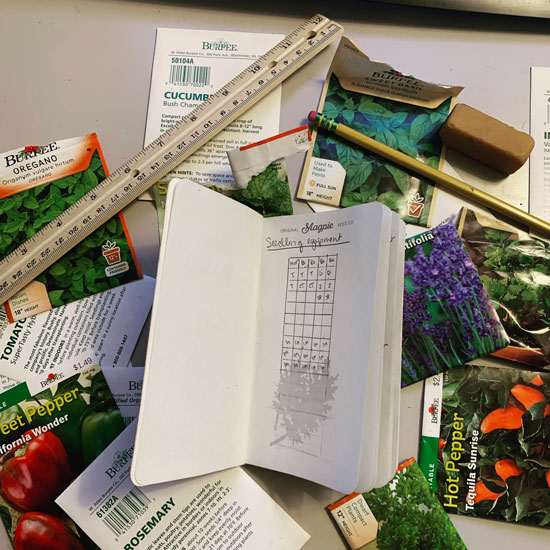 In addition to the 2 raised herb boxes I already have, I'm going to build a 2×4 foot raised bed for the yard. I'm going to … somehow … wrap it in chicken wire so the rabbits, squirrels, and Murphys can't get in and eat my seedlings. Note: I don't know how to do any of that yet, but that's a question for next month and if I get stuck trying to figure that out, I'll never move forward.
Last month I ordered a sunlight meter because I have no idea how much sunlight various parts of the yard receives in a day. On the second day of measurements Murphy broke the meter so we are going with "part sun" and hoping for the best.
I fretted over which seeds to buy that wouldn't give any profit to Monsanto, but after a week of comparing I just went to Burpee and ordered a bunch of seeds. When I'm better at this I'll go for the heirlooms from independent seed shops.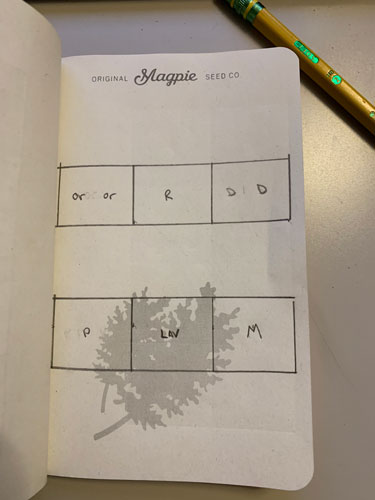 This plan is for the 2 herb boxes. This year I'll be planting:
Oregano
Rosemary
Dill
Parsley
Lavender
Mint
Funny enough, my thyme plant from last year never completely died, even with the snow and muck. When it gets warmer, I'll trim off the dead branches and see if I can get it to grow back. If it doesn't, I'll plant a new thyme.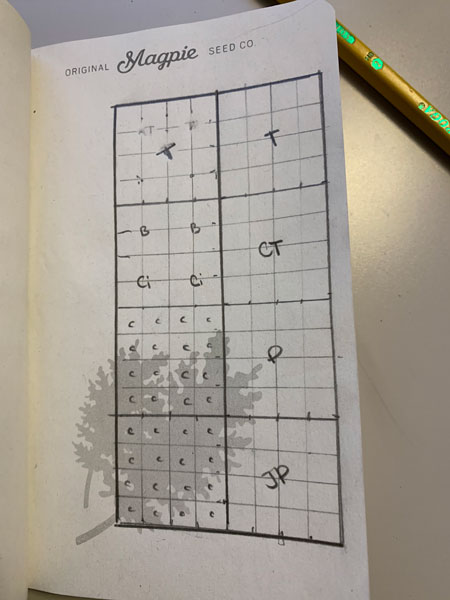 In the 2×4 raised bed, I'm planting:
Regular tomatoes
Cherry tomatoes
Basil
Cilantro
Sweet peppers
Jalapeno peppers
Carrots
I'm planting cucumbers into a large pot, and I still have garlic bulbs from the fall in another pot.
Out front, I'm planting red and white impatiens and California bluebells.
About half of the seeds need to be started inside. My original plan was to start the seedlings in the garage, but it's been cold AF and I was afraid they'd freeze. Instead, they're up in the guest room in this cute little tray.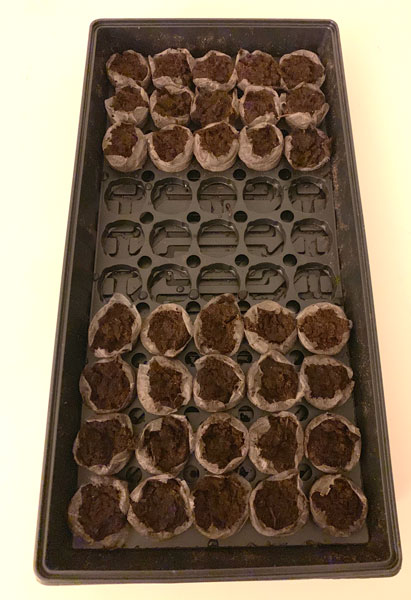 How do I know which plant is where? I HAVE A NOTEBOOK!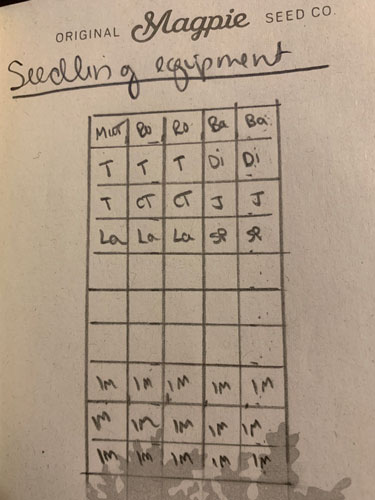 My 2019 garden goals are simple:
To can ONE JAR of tomatoes for the winter
To have more basil in the freezer for winter
To harvest vegetables that I will actually eat
To have enough food that I can give some away
I'm pulling a lot of my guidance this year from the Sow Generous challenge at The Art of Doing Stuff.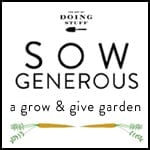 Next month, I go into the garage and BUILD. But for now, did I mention I HAVE A NOTEBOOK?