Being December 30, and past the midpoint of Sloth Week, it's as good a time as any to summarize this year's reading. I have 2 books in progress, one of which will be done by the end of the year (Josh and Hazel's Guide to Not Dating) and one that I'm taking it slowly with because it requires thinking and introspection (Come As You Are).
But as of today I have read 63 books of my 50 book goal. Huzzah – this is my best year yet! (For reading. Not so good for non-sedentary hobbies.) I might increase next year's goal to 60 books, but I feel like this is my personal sweet spot for reading.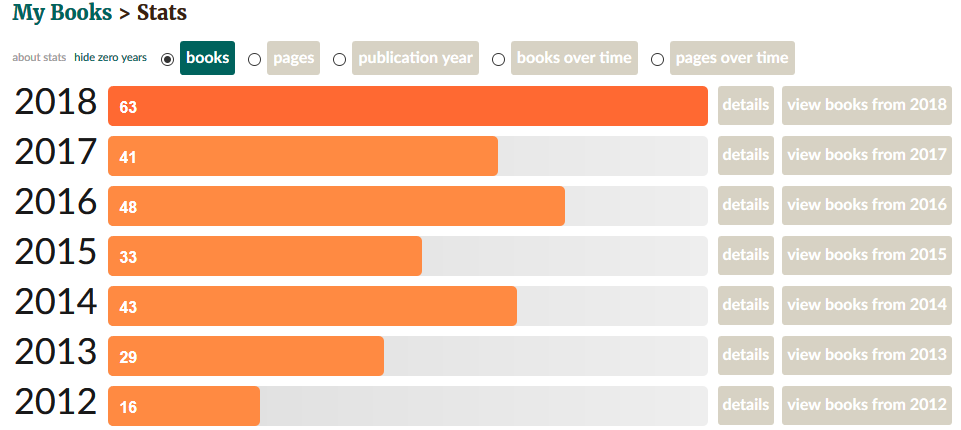 My five-star books were:
Bad Blood: Secrets and Lies in a Silicon Valley Startup – John Carreyrou
The Wedding Date – Jasmine Guillory
This Must Be the Place – Maggie O'Farrell
Behold the Dreamers – Imbolo Mbue
The Queen of Hearts – Kimmery Martin
Song of Solomon – Toni Morrison
The Kiss Quotient (The Kiss Quotient, #1) – Helen Hoang
The Hate U Give – Angie Thomas
The Storied Life of A.J. Fikry – Gabrielle Zevin
A Thousand Mornings – Mary Oliver
Look at all those women and women of color! While I'm not ONLY reading those authors, I'm trying to keep a good mix. Many of these books were culled from book podcasts and others' reading lists.
Here is the full list of books, rated high to low, although I never rate a book one star, I just don't finish it.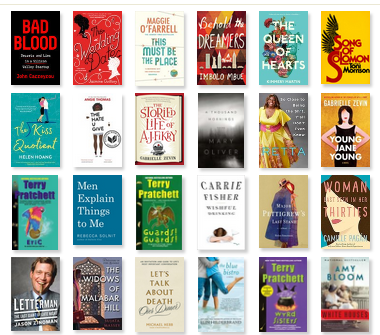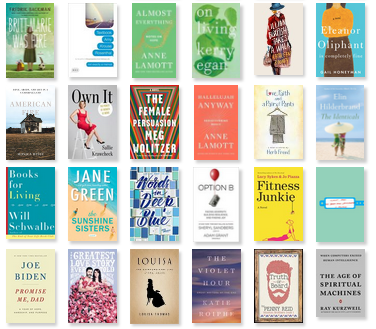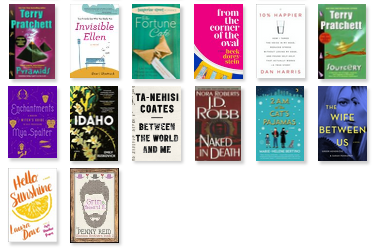 I'm still reading mostly eBooks, because it's so much easier to carry my Kindle on the train than a giant library book that I'm trying not to damage. The downside is that my physical library trips have been low. I know, I'm never happy.
Click here to see my Goodreads 2018 year in review.
This post is part of the special year-end Show Us Your Books Linkup hosted by Jana of Jana Says and Steph of Life According to Steph. It's just pretty late. 🙂