As we did in 2017 and 2016 (I didn't blog that) WM and I went to Seattle to visit our friends last week. It was a great trip, expensively extended by a day due to a cancelled flight. This post is VERY photo heavy.
Day 1
WM and I have completely different travel aesthetics. I always dress as if I'm headed to a resort, and he dresses as if he's going to explore ruins. We stand out in crowds.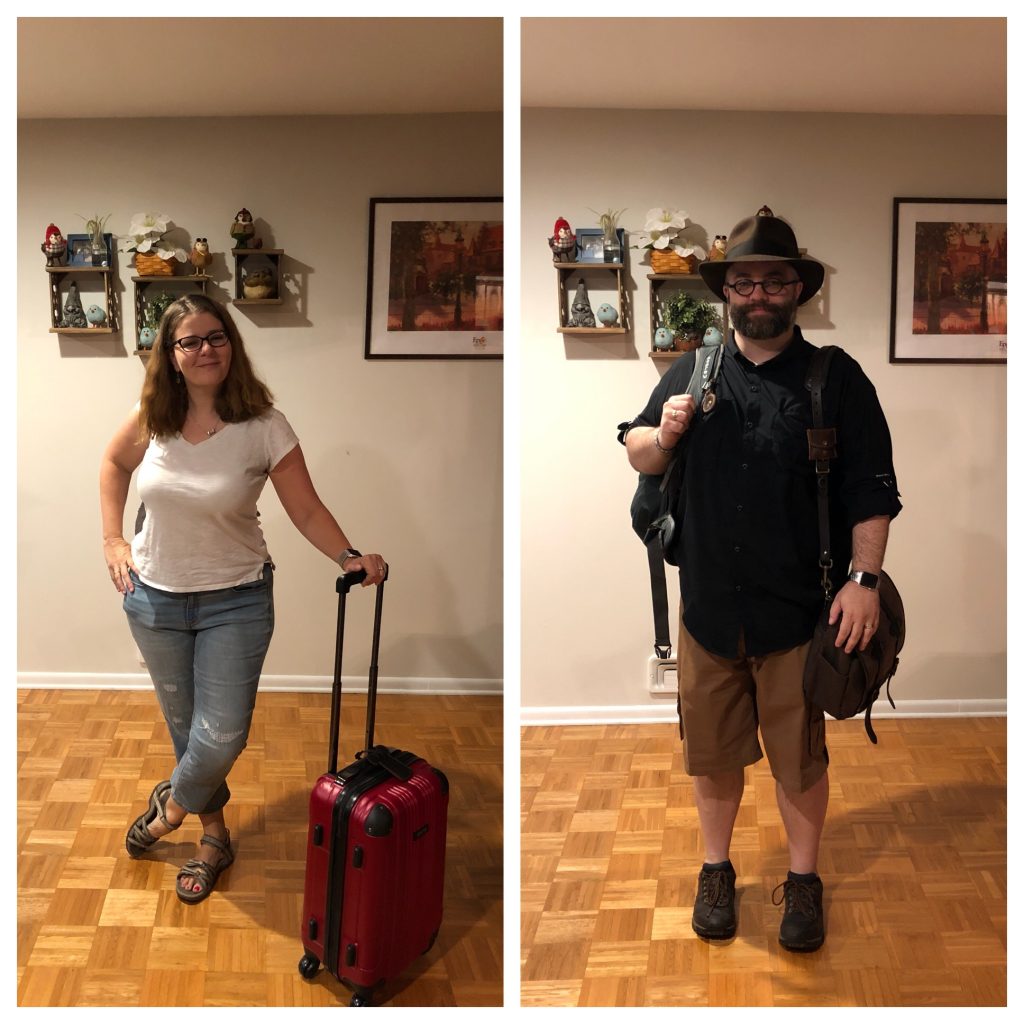 We paid extra for these exit row seats, and my reward was having 60+ butts in front of my face as they stood directly in my legroom to wait for the bathroom. No bueno.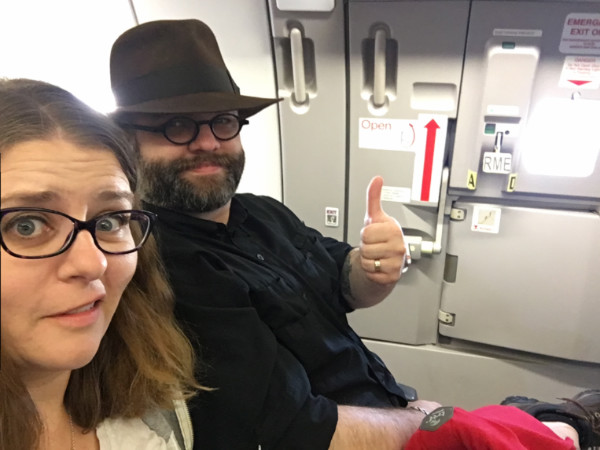 After a lovely breakfast at Cafe Kopi, we went to the Funko HQ store.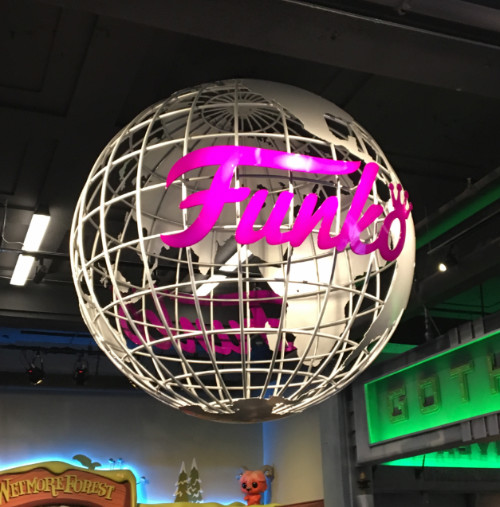 I was expecting a little bit more but it was just a store. There was a make-your-own-Funko-Pop area which I was really jazzed about, because I was going to make one that looked like me. But you're tied down to 2 models, and that day one was a monster and one was Freddy Funko.
I didn't see any products that I couldn't have purchased elsewhere. In fact, there were some new ones released at SDCCSan Diego ComicCon that day and I was a little bit miffed to be honest. There were quite a bit of cute photo opportunities and I ended up with a Kenny Omega Pop to go with my tiny collection of pro wrestlers so, all good.
We stopped at Toggle's Bottle Shop for a beer and I bought a shirt because the logo was too darn cute. Dinner was at Diamond Knot Brewery (many, many breweries in Seattle). I did not buy a shirt but I bought a coconut beer that I regretted later.
And then we went back to the house and I collapsed into bed because we were up at 5am.
Day 2
Breakfast was at Wild Mountain Cafe and I don't understand why we are such chain restaurant people here at home when I clearly enjoy eating at local places when I'm not home. Must work on that. I had an egg dish and WM and I split a piece of coffee cake that is easily in the top 10 desserts I've had in my life. It was warm, and at the first bite I briefly considered rescinding my offer to share. But the world is shitty enough, so I shared.
After stopping at Firehouse Coffee for more coffee (coffee and beer being the recurring themes of this trip), we went to Portal VR where we spent hours in dark booths with sweaty masks on our heads, playing games. I did a hang gliding simulation, and killed myself many, many times. (Note to self: never hang glide.) I also played Beat Saber and OH MY GOD I have found my VR joy. It's like Dance Dance Revolution, but you're hitting boxes with light sabers and moving out of the way of walls.
This is what it looks like when GOOD people play:
And this is what it looks like when I play:
So if anyone wants to give me $1000, I will trash my craft room and make it a VR place and you can play too.
After that we ended up at Axe Kickers, yes, it's a hatchet throwing place. What a blast! By then there were 8 of us and we rented 2 lanes. The owners were super patient with us because we realllly aren't the axe throwing type. Of course, WM took to it immediately, chucking hatchets underhanded at the target and then trying to toss his hat onto the handle. Total showoff.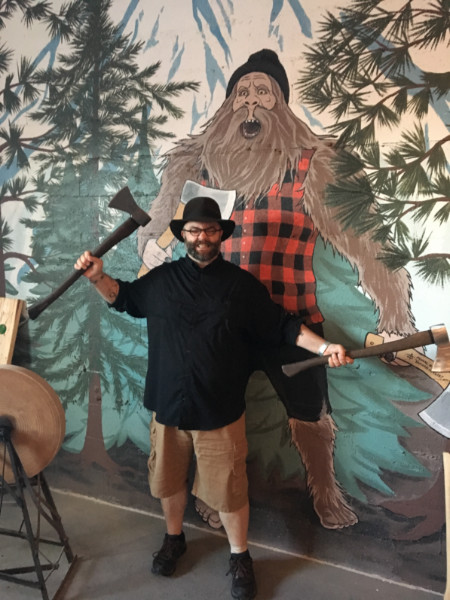 Me? I do not have a natural talent for it, and I only really got the hang of it about 15 minutes before we were done. We had an amazing time and if you are in the Seattle area, fill up your car with that $5/gallon gas (!!) and head to Axe Kickers.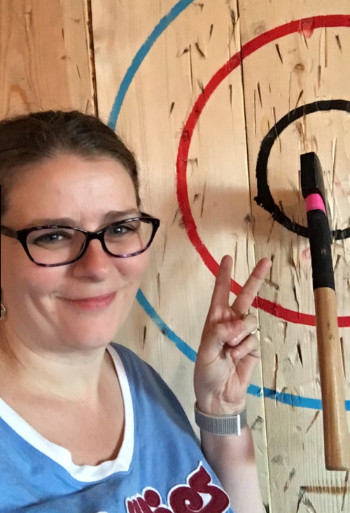 Also, the owner's father was born in Camden, NJ. Jersey runs the world, baby!
Famished, we went to Proletariat Pizza for dinner. The pizza was good, and the company even better.
And then we went back to the house and I collapsed into bed because I woke up at 5am Seattle time.
Day 3
I always look forward to our visit to Kaffeeklatsch, a little German bakery. The coffees are top-notch and the pastries are the best. It's always crowded and always worth it.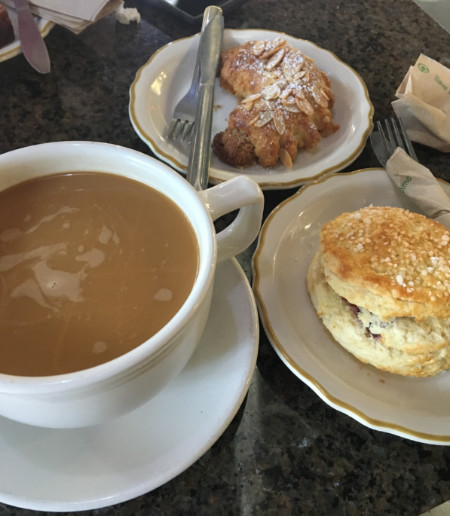 After a few hours chilling at the house (huge thanks to J&A for continuing to let us sleep in their living room every year) we took a bus to Seattle Center for Bite of Seattle, the reason we picked the dates for this year's trip. It's a giant food festival with 3 stages of music, some beer gardens and it's within view of the Space Needle. I had jambalaya, gator kebobs, strawberry shortcake, salmon tacos, and more things that I can't remember. We found a shady patch to serve as home base for our group of ten.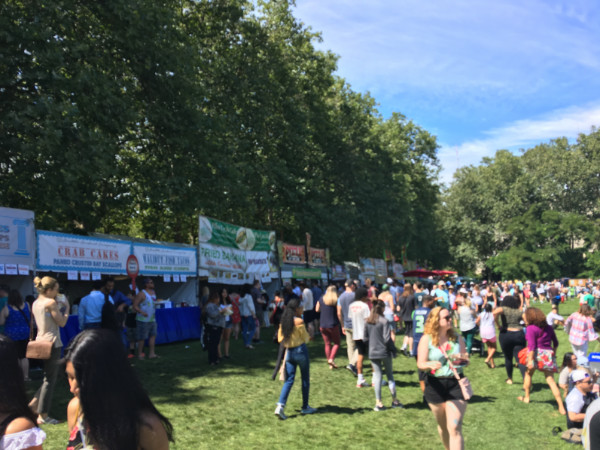 Suddenly I heard a few familiar notes – the beginning of "Satisfied" from the musical Hamilton. I dashed to the nearest stage and saw a great set from Rise Up – A Hamilton tribute band. Food, sunshine, AND Hamilton songs? That afternoon was perfectly tailored to me.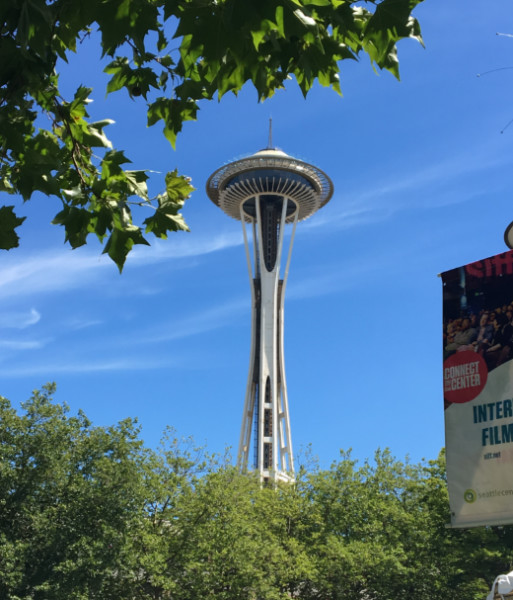 After Bite we went to Queen Anne Beer Hall for more reasonably-priced beer and giant soft pretzels. It's a beer hall with long, communal tables and a happy atmosphere.
Day 4
Last day! We went to Din Tai Fung in the University District for a dim sum brunch. The food was tasty even if the service was a little chaotic. After that we made our way to Ella Bailey Park. Why? Because my friends know I am a perpetual tourist and a sucker for a good view. And look at these views!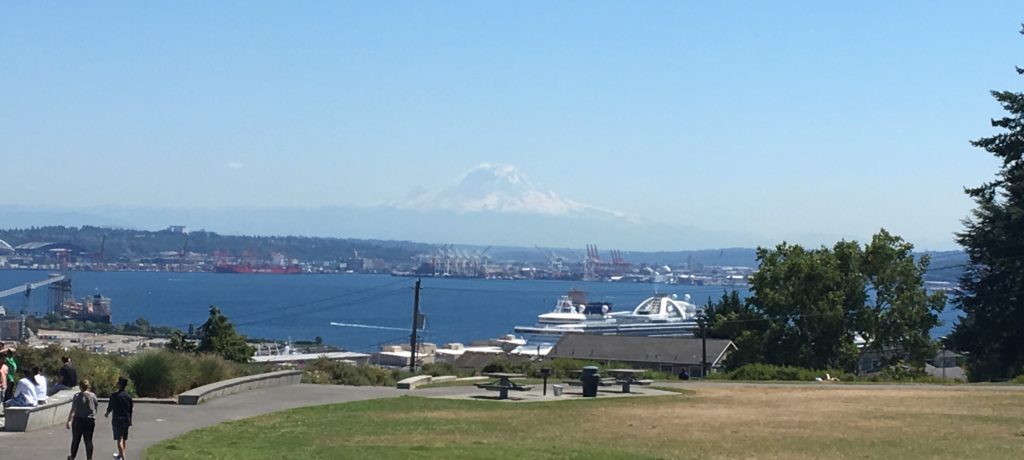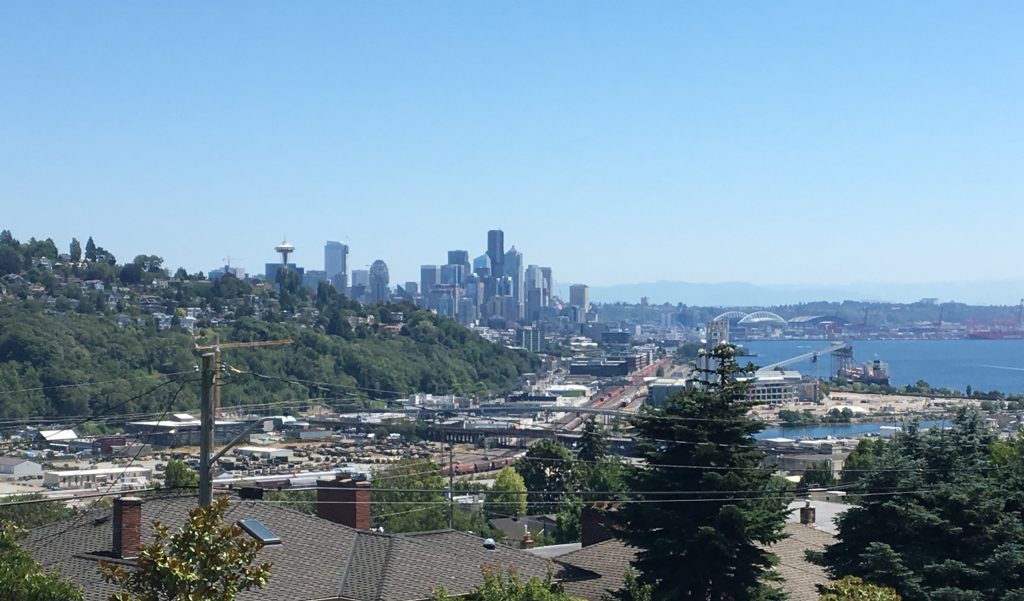 Let's take a moment to talk about the weather. It was sunny and in the 80s the entire time. I even got a tan! Sure, the locals weren't loving it, but the tourists definitely were!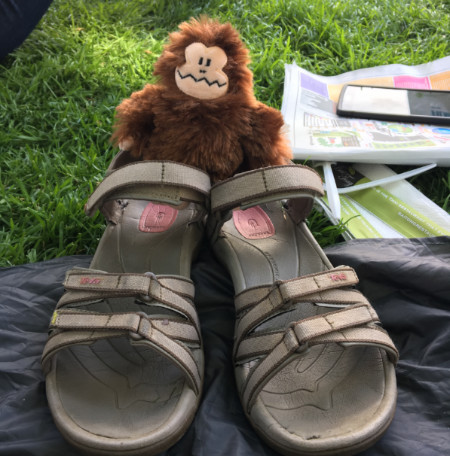 A nice local came to our group to chat and try to get us to join her church. We gave our polite no thankyous and then aptly spent the rest of the day at Hellbent Brewery. This is another repeat for us. Hellbent is a spacious two-story building with an outdoor patio area and it's even dog friendly. By this point in the trip I was fiercely missing Ollie and Murphy so I soaked in the various adorable dog noses. Every day a food truck arrives for dinner. This one was from Don Lucho's and specialized in Peruvian sandwiches. I had a chicken sandwich that made my mouth burst into flames in a good way. My beer of choice was Funky Red Patina.
We went back to the house and streamed ABBA videos to the television. #middleagelife Then I forced myself into bed because I had to wake up at 5am to go to the airport.
Day 5 – bonus day!
If you've traveled enough, you start to know in your bones when something isn't going to work. Our flight was to leave at 8:05. And then it was moved to 9:15. In the middle of the night it was moved to 10:15. And then back to 9:15. We decided to get to the airport in time for the original 8:05 flight anyway. We bummed a ride from C to the airport, said our goodbyes (fact: I always cry at airports) and sauntered through PreCheck. The SEA-TAC departures board said the flight was leaving at 8:05. The rep at the American Airlines desk said 9:15. We sat down with two (awful) bagel sandwiches and (bad) coffee. Annnnd WM got the text alert that the flight was canceled. O-kay. Off to the gate to straighten things out. WM got in line while I hit up AA's website. We booked onto the next day's flight, having to pay more to get the seats we already had. We tossed the awful, cold sandwiches. I extended the dog's kennel stay by a day (weep!), we let J&A know they had a freeloader for another night, and then we took an Uber back to the house. It took close to an hour and cost over $70.
A had to go back to work, so J took us to Standard Bakery for breakfast. And coffee.
What to do with a bonus day? You be a tourist! We called C (who had rightly gone back to bed after the 5:30am airport run) and let him know we were back! He is a natural tour guide, so we hopped some buses and did that thing.
We went to Pike Place Market where I saw the fish being thrown. The fish is REALLY hard to see in the first photo: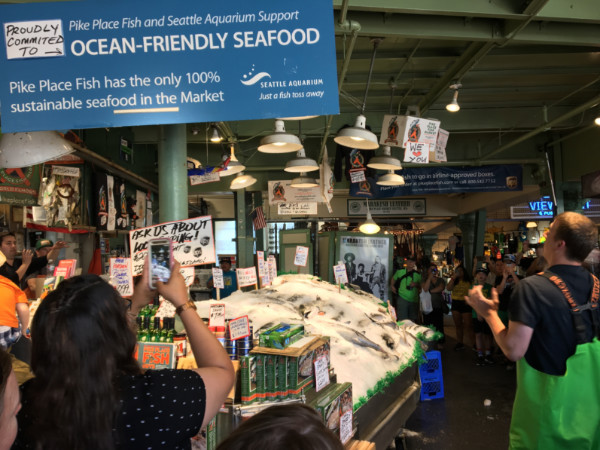 So I applied some filters.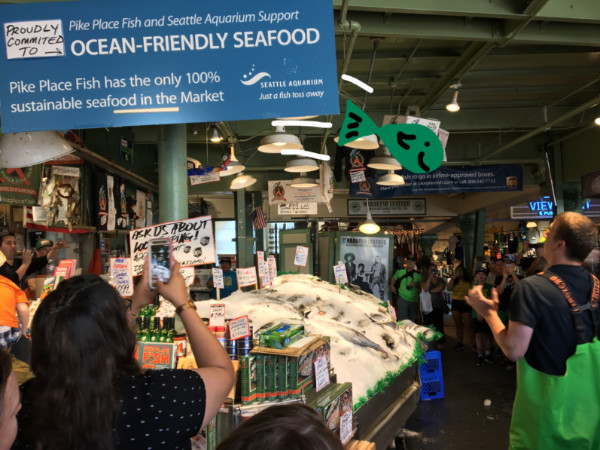 We think the fish was behind the giant sign. I am an expert photographer.
Next up we waited 30 minutes to have a coffee at Starbucks 1st & Pike, the first Starbucks store. Crowd management was friendly and spot-on.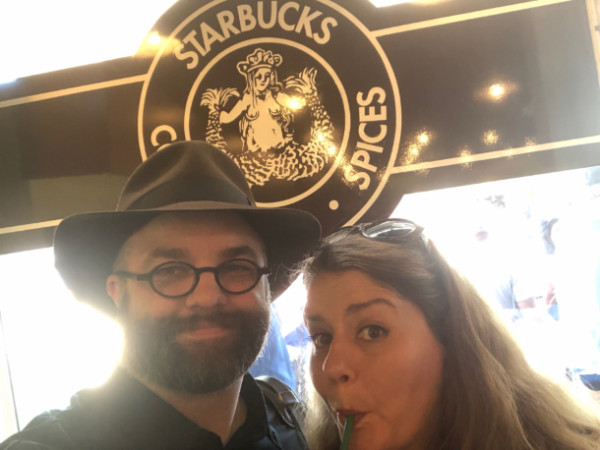 Back to the Market where I bought an artist's print of the flower stands. I couldn't realistically buy actual flowers, so the print will do nicely and will match the living room.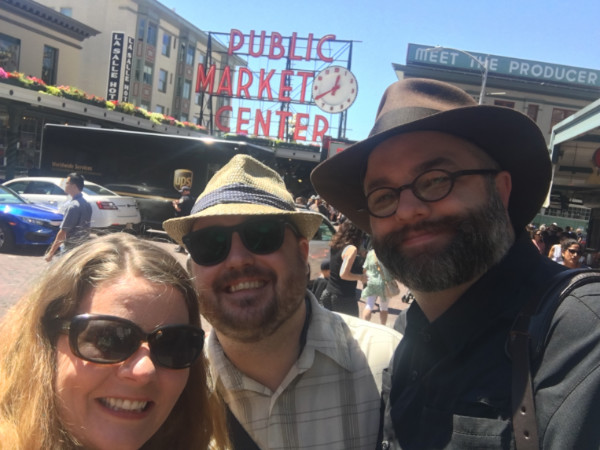 We crossed over to Victor Steinbruek Park so I could see the totem poles.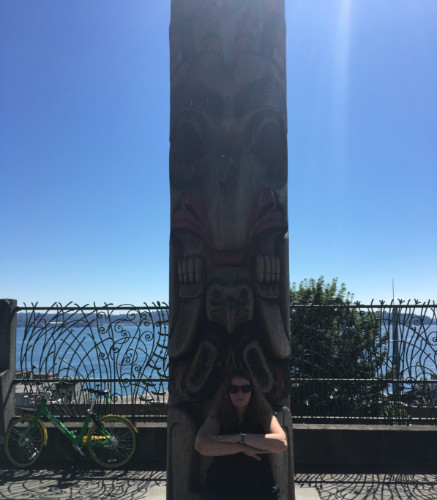 Those green bikes are ridesharing bikes, but they are dockless. This means people discard them all over the city. They are dumped on every block, every corner, in bushes, etc. It's an awful, awful idea. Lunch was at Qdoba (We were hungry and on a budget because the Uber back from the airport cost $70, okay?). We continued to walk around downtown and, staying on topic for the trip, had coffee at Cherry Street Coffee.
A was finished with work at 5, so I met her for happy hour at Lady Yum. Champagne and macarons? Yes please. The macarons were fantastic. Chewy, not crunchy.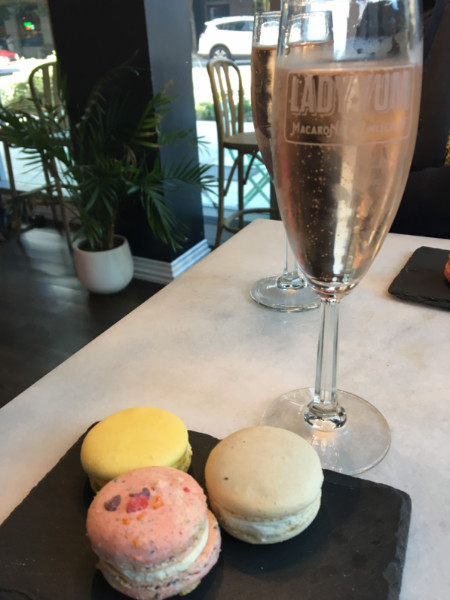 The one in the foreground has Fruity Pebbles mixed in because I am a classy, classy broad.
Dinner was at The Watershed Pub and Kitchen. We topped off the day with some rose and more macarons and I dropped into bed from all of that walking.
Day 6:
We came home. It was blissfully uneventful. We had Wawa for dinner because HOAGIEFEST!
Something I tried this trip was taking only a carry-on bag for the overhead and a backpack for under the seat. It was nice to just walk off of the plane and not wait for baggage. It also curtailed my souvenir shopping, another good thing. It works for Seattle, where the temperature was the same every day and we kept it casual. Even with the extra day I still overpacked. But I don't think it could work for my work travel, strictly because of the work shoe/casual shoe issue. Even my sensible heels take up a lot of space. I may have a work trip coming up in September, so we'll see.