So far I've read 27 books this year, which SOUND fantastic until you realize I'm 7 books behind schedule for reading my goal of 50 books. Boo! This summer has been … problematic … but I'm getting back into the swing of things. I refreshed my ebook hold list at the Philadelphia library and making trips to the hometown library every few Saturdays to try and pick up hard copies of older books on the TBR list.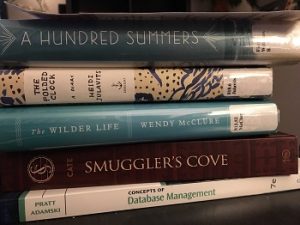 For reviews, I use the Goodreads scale, which is:
One star: did not like it
Two stars: it was ok
Three stars: liked it
Four stars: really liked it
Five stars: it was amazing
Read
Encyclopedia of an Ordinary Life – Amy Krouse Rosenthal
This is a memoir of Amy Krouse Rosenthal's life, ordered alphabetically like an encyclopedia. It reminded me of a child's encyclopedia I had in the 70s, and it was charming. Her life is pretty darn normal, in her words, "I have not survived against all odds. I have not lived to tell. I have not witnessed the extraordinary. This is my story." That's pretty much me. It was funny, poignant, and beautiful. Amy and I could have been fast friends and I'm sorry she's gone. I gave it four stars on Goodreads, but time has warmed that rating up to 5 stars.
My Beloved World – Sonia Sotomayor
This is Justice Sotomayor's story from before she was born (thanks to some family history) until she became a judge. I was a little frustrated the story didn't continue to her Supreme Court confirmation, but I can kind of understand why it didn't. Justice Sotomayor came from a poor, working-class Puerto Rican family that experienced a lot of hardships, both financial and emotional. It was Sonia's mother's value for education that helped Sonia excel. That and some affirmative action along the way. If you know of someone who's against affirmative action, they should read this book to see, "Hey, THIS is the person these programs are aimed at." I appreciate a well-told story of a smart, career-minded woman. Four stars. Trigger warnings for what we today call child abuse (but back then it was called discipline) and angry, screaming families.
The Animators – Kayla Rae Whittaker
This is a messy and gorgeous book. There is so much going on sometimes that it's hard to keep track, but honestly, life is exactly like that. I didn't want to put it down, to the point where I'd be pissed when my train commute to work ended. This is the story of Sharon and Mel, two broken people from messed-up families who meet in their college art program. We see them meet, and then we flash forward ten years. Sharon and Mel become (work) partners, best friends, and each other's chosen family. But success can't knock out the (figurative) demons that have chased them their entire lives. Sharon is the narrator.
Whether you're an animator or a cubicle worker, life is a seies of things falling apart, how you reassemble those things, and the mistakes you make along the way.
This book is chock full of triggers: off-page child rape and on-page aftermath, child porn, child abuse, medical emergencies, death, drug use, off-page violence, angry families, screaming from said families, etc. Five stars.
How Italian Food Conquered the World – John F. Mariani
The lone dude author this month. I really enjoyed the first half of the book, which went into Italian food and the origins of Italian-American food, which is (as we are beaten over the head with for the rest of the book) what most of us in the USA think of when we think of Italian food.
And then the author begins a chapter with a story of his honeymoon when he and his wife took a leisurely three weeks to drive across the country and eat at restaurants and American restaurants were so bad that his wife literally cried out that she didn't know how she could do this for the rest of the trip. Poor doves. From then on after, he became a minor recurring character in the book, talking about the chefs he met and the high-end restaurants he went to, with a minor detour into the fashion world which seemed like padding.
Mezza mezza. Two stars.
Leave Me – Gayle Forman
A 44 year old mother of IVF twins has a heart attack because Life Is Hard and decides to run away because she's unable to Use Her Words. She pulls $25,000 out of the savings account set up by her dead father's trust fund (as one does) and heads to Pittsburgh to convalesce, canoodle with a doctor, have fun with some college kids, learn to swim and tepidly search for her birth mother. I am a 44 year old childless woman; therefore I have zero personal, professional, or financial problems and cannot relate to this book at all. I do have many peers who are working mothers, though, and although it's a tough row to hoe, I REALLY don't think they'd just effing run away. I wondered hard why Maribeth was acting like a precocious 16-year-old in a highly unrealistic situation. And then I read about the author's YA background and it all clicked.
Two stars, and I only finished it because I am very behind on my reading goal for this year.
The Wilder Life: My Adventures in the Lost World of Little House on the Prairie – Wendy McClure
I gobbled this book up like the first loaf of bread made with white flour after a long winter. I used to think I was a Little House on the Prairie fan, mostly because every depressing January I say "February is short and March is Spring!" and because as a child I used to watch the show while wearing a sunbonnet bought for me in Lancaster, PA. But in reading this book I realized there are hundreds of people who have me beat. The author is one of them, and I enjoyed her wacky obsession with trying to find out everything about Laura World that wasn't in the books.
This is not an Academic book so if you are a Learned Person looking for Cited Historical Sources, you're not going to find them here, and you should probably find another book about Laura Ingalls Wilder. This is the story of a passion project, that's all. Four stars, because trying to shoehorn this whole project into the framework of a woman grieving her mother's death was awkward.
On Tap:
A Hundred Summers – Beatriz Williams
The Folded Clock: A Diary – Heidi Julavits
You can find all of my reviews on Goodreads and more reviews by other bloggers by clicking on the link below or by vising Jana Says and Life According to Steph.