Between a birthday week that was less-than*, and concerns over the biggest hurricane ever headed right toward Retired-Guy Land, FL, I'm glad to be in another calendar week. Here's the Friday 5 that was supposed to be done on Friday, but we had our (fiscal) year-end Membership Goal dinner that night and I didn't get home until after 10. The theme is Consumption.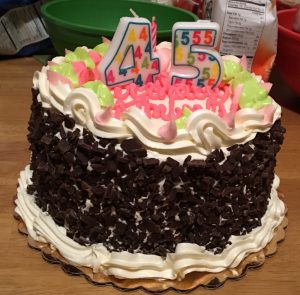 1. What is your paper towel consumption like?
If I normalize it to the times when we are not dealing with elderly leaky dogs and young leaky puppies, we're pretty good with it. I use Target's make-a-size rolls, which is a good way to use fewer towels than you think you need.
2. What condiment do you use most often?
Ketchup! Fries, burgers, scrambled eggs. Especially eggs. Don't look at me that way.
3. What is your sticky note consumption like?
Declining, because I use a bullet journal for work and have trained myself to look in there for my notes to myself.
4. What's your coin jar setup?
At home, I still have the cheap red piggy bank from IKEA that I purchased 11 years ago. We call it the road trip pig. At work I have a piggy bank that J&K got me from their honeymoon. It's painted in tropical colors. We empty them twice a year. There is GORGEOUS glass jug upstairs in my mom's house that is absolutely empty and abandoned by its previous owner. I have always loved it and … yeah. I'm taking it.
5. What's something you've purchased recently that was lower in price than usual?
For the last few weeks, I've been going to Mom's grocery store with her and last week there was a sale on Starbucks Veranda K-Cups – $5.99 a box instead of $9.99. I am not ashamed to say I bought every box off of the shelf.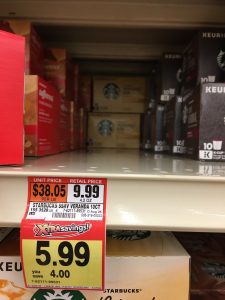 *I tried to organize a happy hour on Tuesday (emailed a week in advance, only a 2 block walk, etc) and only one person came. It was as humiliating as it sounds. Early-September birthdays absolutely blow, each and every year. Especially if you've never been a popular person.