A short while ago we purchased the fleecy Horde throw from Blizzard's Spring Clearance sale. It was originally $70 (!) but I think we ended up paying less than $20 for it. It's very fluffy and I said that we should save this for Murphy. This was before we had even started looking for him.
When he arrived, I tossed the blanket on the floor in the office and he took to it like a … dog to a soft blanket. He prefers the fleecy side to the microfiber side. Earlier this week while I was working from home, he was perfectly positioned near the Horde logo. I snapped a picture for Instagram and made sure to tag Blizzard.
And not long after, Blizzard responded on Twitter!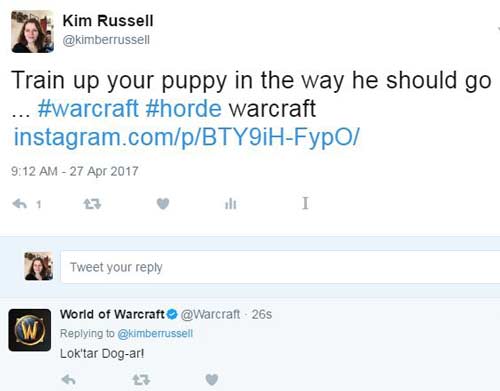 For the non Warcraft folk, "Lok'tar ogar is the Orc saying for Victory or Death!"
I love the Internet. I love that I can interact with the brands I like and they'll interact back with me. And I love this stupid game I've been playing for the last 11 years.