During the months that I wasn't blogging but thinking about what I would do once I relaunched the blog, I realized that I miss the blogging community at large. Most of the people I used to follow and comment on are no longer blogging regularly or at all. I get it, it's tough to keep trying to tell new stories. I also found myself reading blogs but not commenting on them, which makes me part of the blogging community problem. (I am usually my own biggest problem.)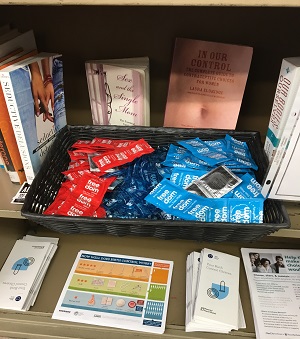 In that spirit, I've decided to start participating in some more bloggy linkups. And rather than dribbling out book reviews as I read them, I'm going to do the monthly Show Us Your Books linkup hosted by Life According to Steph and Jana Says. Two blogs that I read but rarely comment on because I'm a problem.
Read in March:
Sweetbitter by Stephanie Danler
Gah. Just … ugh.
I *thought* it was going to be a more restaurant-centric story. Or at the very least, we'd see main character Tess's growth from New Girl to Server. But those stories which could have been compelling were tucked deep in the background behind all of the characters getting drunk, high, drunk and high, screwing each other, and screwing up. Including Tess, who spends the entire book making very bad decisions. I'm too old for that book.
Nicotine by Nell Zink
This was a batshit-crazy book filled with really troubled people who are just trying to do the best they can in strange situations. It was a fun read, and had a few laugh-out-loud moments with regard to "activism." It hints at child rape/molestation but not in a violent way, so if that's a trigger for you, maybe not pick this one.
The Knockoff by Lucy Sykes and Jo Piazza
I read this book in almost one sitting, when I happened to be sitting in a plane on my way to vist Dad in Florida.
Imogen Tate is the 42 year old Editor in Chief of Glossy, a popular fashion magazine. Upon return from a medical leave, Imogen finds out that her whole magazine has been turned digital, and the woman who was once her assistant is now her boss. When long-forms are replaced by listicles (spell check wants that word to be testicles), can Imogen hang or will she be forced into early retirement?
After reading Sweetbitter, this book was a balm to my soul. It's a fun, fluffy, revenge story with a lot of snort-out-loud references to how bizarre new media is.
Currently reading
Savage Beauty: The Life of Edna St. Vincent Millay by Nancy Milford
I'm enjoying this so far, which is interesting since I am not a poetry person. If you close your eyes and picture a woman named Edna St. Vincent Millay, you'd likely picture a dour matron. Hoo boy, she was not.
Walt Disney: The Triumph of the American Imagination by Neal Gabler:
I have been reading 5 pages at a time since December, which isn't getting me anywhere because this is a huge book. I think I'm at peak Walt Disney biography saturation, having read at least a dozen of them in the last 15 years.
Where do I find my books?
Savage Beauty was an ebook on sale for $1.99 that I found through the BookBub daily email newsletter. It's damaging to your pocketbook, but only a little at a time.
I find other suggestions via Book Riot's All the Books podcast, which I listen to every Sunday while I prepare lunches for the coming week. For books I can't check out for my Nook ereader, I walk my ass to the Philadelphia Free Library every few weeks from Spring – Autumn.
I keep track of all of my reading on Goodreads.
What are you reading?