Happy Friday, which also happens to be National Hoagie Day, National Astronaut AND National Space Day (jumping on the Star Wars May 4th frenzy, I see) and of course, Cinco De Mayo.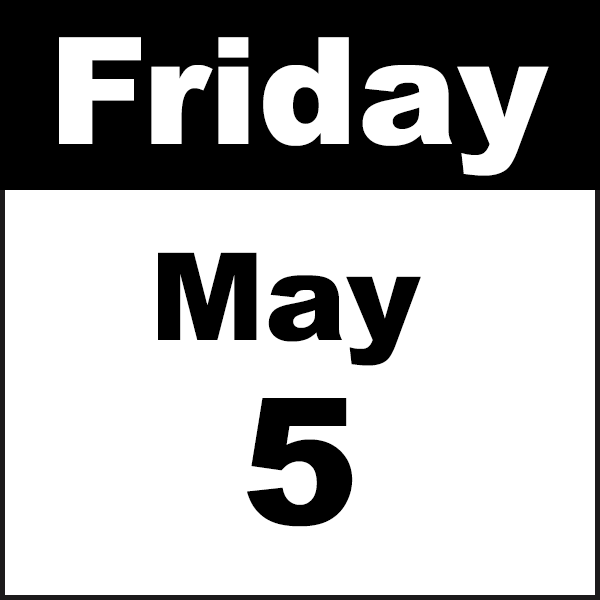 This week Mom, J&K, and Nephews A&B went to Walt Disney World and I got to live vicariously through them. It wasn't a good week for House Russell to go on vacation so we stayed home. Or maybe it would have been a good week because the weather here has been in the 40s and 50s and dreary as heck. Work has been hopping, the NJ Devils are in Round 2 of the playoffs, and today is the AP exam for WM's European history class.
Video game wise I picked up Disney Dreamlight Valley again to catch up on the last 6 months of content. I'm not thrilled with the base plot point, which I'll tuck below the Friday 5 answers to avoid spoiling. In Slay the Spire I'm on ascension level 9 for Ironclad and level 8 for Silent. I don't care about the other two characters. My NYT Crossword Puzzle streak is a meager 34 days.
---
Time for the Friday 5! May 5th is Children's Day in Japan and that is today's theme. Let's get to it!
Who was the last child, unrelated to you, you personally had a conversation with?
We have two young neighbors, the younger one is about seven years old. She comes outside occasionally and climbs up to the upper level of her playground set to see what we're up to. We chat about the garden and Murphy and generally how nice it is to be outside. On the day WM and I moved the plants outside and started tidying up the back yard, I we kept her passively occupied for hours.

Among things most children aren't permitted to do, what should they be permitted to do?
School aged kids (education-school, not daycare-school) should be able to stay in cars by themselves for a short amount of time while parents run inside of a store. This used to be The Way, and kids learned to be alone for a bit in a safe environment and the store was filled with fewer kids who don't want to be there and make that fact known.

Some people say there are (generally) animal people and children people. Which are you?
Fate has made me an animal person.

Which children's books do you remember enjoying most?
From the Mixed-up Files of Mrs. Basil E Frankweiler, the entire Little House on the Prairie series, all of the Judy Blume books.

When did you last see koi in person?
I'm pretty sure I saw a koi pond at Hershey Gardens last summer. I don't have any photos, but let's just say I'm 90% certain I did.
---
SPOILER: In Disney Dreamlight Valley, you start with a village covered in Night Thorns (purple thorny invasive plants created by dark magic) and many of the characters are gone, banished to another world because of The Forgetting. One by one you bring them back and help them remember their lives before. But what caused The Forgetting? YOU DID. Simply by growing up, you created an evil version of yourself who destroyed the village and sent the characters away. And once they get their memories back, the characters constantly reassure you that it wasn't your fault. But, ugh. Me? Forgetting the Disney toons and causing this apocalypse? Obviously the game devs haven't seen my house.
Anyway, not much videogaming this weekend because the weather is finally back in the 70s after 2 weeks of March-like conditions.
---
---
Need some more email in your life? If you're a regular reader but forget to check in, you can subscribe to a once-a-week email with links to the week's posts! Click here to sign up!