Rabbit rabbit!
Another month gone by, another opportunity for navel-gazing self-evaluation. Here were my goals for April. As always, the mental health ones are redacted.
TL;DR – not the best month. There were a few things that happened toward the end of the month that threw off my game quite a bit and I used those things to make excuses.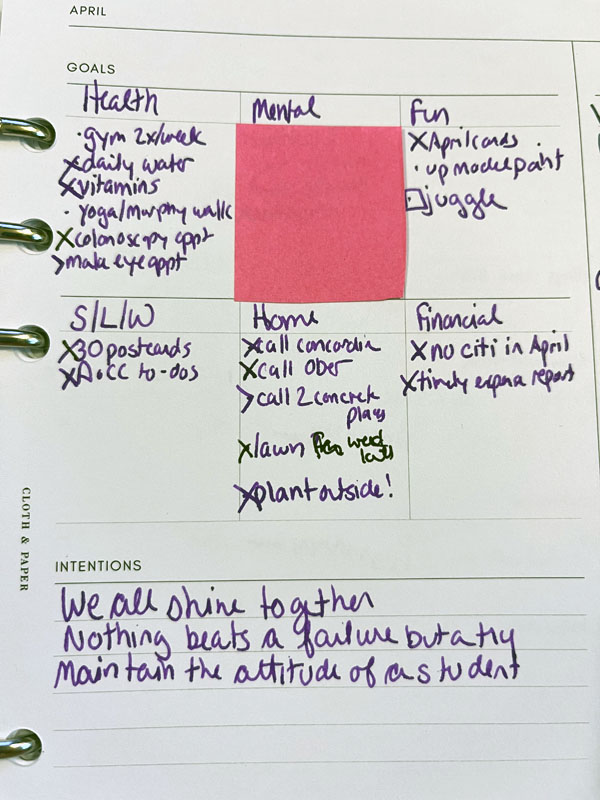 Health: Vitamins are good, daily water is good, my gym attendance fell off toward the end of the month, as did the daily walks with Murphy. The long slog toward the colonoscopy continues but at least I have a date now. It's in June. We'll make the eye doc appointment this month.
Mental Health: They're not scandalous, they're basically Stop Being a Feral Goblin and Talk To People. April ended up a feral goblin month. I have stopped picking at my nails/cuticles again, which wasn't a goal, just something that happened. They're still short by conventional measures, but for me they are long and pretty. I'm going to paint them tonight. The true test always comes when one chips or breaks and I have to find a file quickly before I have the opportunity to rip the nail off myself.
Fun: April cards were sent but I didn't make them because my spare crafty time is spent practicing watercolor techniques. I had extras from prior months. I didn't sign up for the May send. I'll pick it back up in June. I picked up my juggling beanbags a few times and am very clumsy. The Up model house paint will be tabled until watercolor class is over.
Safe, Loved, & Warm: The core values goals. I sent 30 Postcards to Voters, and took the AoCC gun violence actions. Anti-gun violence actions.
Home: I called the electric company for an estimate on having two light boxes installed in the bedrooms so WM can install ceiling fans (and more importantly overhead lights, say what you want about overheads but lamps and sconces aren't enough for me) but they never called back. Will call again tomorrow. We did have our air conditioning serviced for the year. Garden-wise, all of my seedlings are now outside drowning in the rain and I sprayed weed killer on the front lawn to get rid of the onion grass and random dandelions. This month I will also call the concrete place for an estimate on expanding the driveway.
Financial: I did not put any charges on my Citibank card this month. I filled out my expense report from TNP's meeting right away. I'm going to do a low-spend May.
Intentions:
We all shine together.
Nothing beats a failure but a try.
Maintain the attitude of a student.
---
---
Need some more email in your life? If you're a regular reader but forget to check in, you can subscribe to a once-a-week email with links to the week's posts! Click here to sign up!