I try to read all genres of books but I do have my preferences. I enjoy nonfiction, summery beach books, some fantasy, some romance, scant YA. Not deep fantasy, not murder/torture, not dystopian. But a genre that's caught my eye lately is magical realism, which are works of fiction that seem to be about real life, but work in a magical component that everyone is aware of. These two books were on my to be read list for a while and I was fortunate enough to find them both at my library on the same day.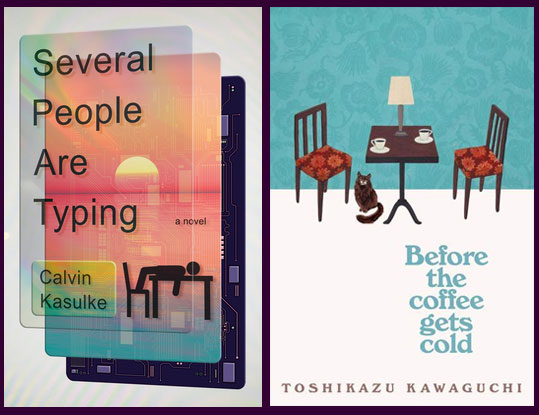 Several People are Typing by Calvin Kasulke
This one is a little gimmicky because it's completely written as multiple Slack (Slack is a chat and collaboration software used at many organizations) conversations between groups of coworkers at a PR firm. Everything seems to be business as usual until it's not. The format makes for a very fast read, but it still packed a lot of laughter and deep thought into the pages. Even though this was written in 2019, after 3 years of remote work the behaviors and antics seem even more realistic. Three stars.
Before the coffee gets cold by Toshikazu Kawaguchi
A basement coffee shop in Tokyo has a special item that's not on the menu: The ability to go back in time. But there are rules: you have to sit in a certain seat that's almost always occupied, you have to stay in the cafe, and you have to come back to the present time before the coffee gets cold. Even though I predicted the ending even before I hit the halfway mark (let's face it, when you meet a pregnant woman with a weak heart in a book, the plotline practically spoils itself), it was sweet and poignant. The Goodreads reviews are all over the place and I think a lot of that has to do with a non-US culture and writing style, but for me it's four stars.
I keep track of my books on Goodreads.
---
---
Need some more email in your life? If you're a regular reader but forget to check in, you can subscribe to a once-a-week email with links to the week's posts! Click here to sign up!