Happy Friday! Lots of sighs of relief this week as some medical tests came back good for me and for others and we can slightly unclench and return to just a normal pandemic-level clenching. I've been clenched since September 2019. At this point I don't know what it even feels like to be carefree anymore.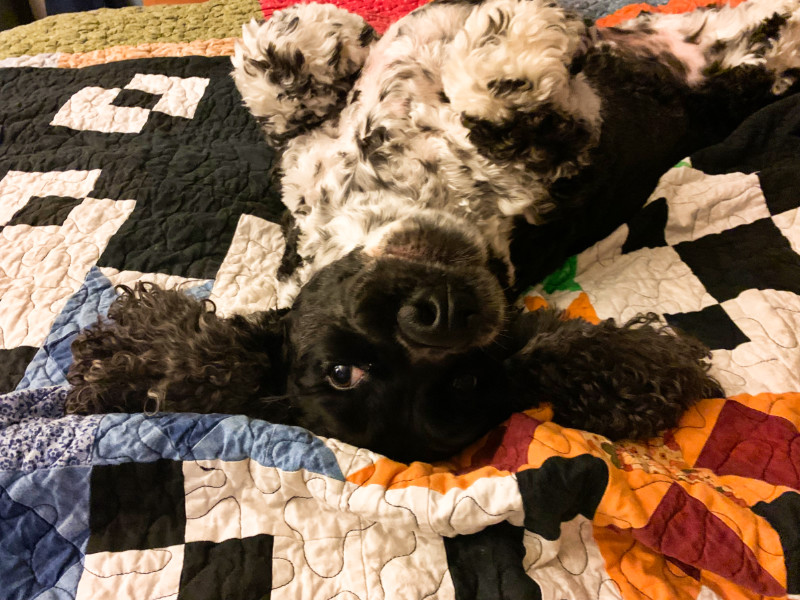 I'm also in a "HOHO HOHO so much to dooooooooooo" phase and a simultaneous "NONO not going to do anything!" mood. I have a wedding to go to tomorrow and Sunday is Halloween so yeaaaaaaaaaah, the weekend is shot already. May as well just spend the rest of the time reading, right?
Here is an incomplete list of things I need to do soon: switch the seasonal clothes, move suitcase from my closet to the garage so I can move the seasonal clothes out of MIL's future room into my closet, donate the seasonal clothes that I didn't use, continue the seasonal rug steam cleaning, pack up the Halloween goodie bags, continue to empty our stuff from MIL's room, etc etc etc.
And here's the Friday 5 – this week's theme is Yuputka, which is an Ulwa word that has no direct English translation. It means A word made for walking in the woods at night, it's the phantom sensation of something crawling on your skin."
Iktsuarpok is Inuit for that feeling of anticipation when you're waiting for someone to show up at your house and you keep going outside to see if they're there yet. Who last invoked iktsuarpok in you?
I'm very fortunate to have a bunch of windows pointing toward the front door so I can peep outside. I doordashed (TERRIBLE habit do not start this) dinner on Monday and I was low-key stalking the window to see what the time differential was between the app saying the car was at my house and when the car was actually at my house. It was less than 2 minutes difference!

Georgians call it shemomedjamo when you're really full, but your meal is just so delicious, you can't stop eating it. When did you memorably shemomedjamo?
I LOVE bar food. Wings, fries, tots, apps, etc. We went to PJ Whelihan's (local chain) and last week and everything was so good and so hot and so greasy I just kept going. Fancier places have decadent food too, but the portions are usually smaller. Go to a bar or a diner and you get so much food.

Zhaghzhagh is Persian for the chattering of teeth from the cold or from rage. When were you last so cold (or so enraged) you experienced zhaghzhagh?
Today! I walked around the block to see Nephew A at his school's Halloween parade and it was so damp and windy and I should have been bundled up more. I get cold quickly and I was trying to hide the chattering.

A bilita mpash in Bantu is the opposite of a nightmare: an amazing dream. Whenever a dream question shows up in memes, half the respondents say they don't remember their dreams, but here we go anyway. What is one bilita mpash you remember?
I remember so many dreams, but the general Internet Fuddy Duddy Consensus is that nobody cares about dreams. One of these amazing dreams was when I commanded a battalion of rebels against an alien invasion. We were based in the NJ Pinelands, and we won. The scale of this dream was on par with Independence Day.

In Thailand, the feeling you get when you don't want someone to do something for you because it would be a pain for them is greng-jai. When did you recently resist greng-jai and ask someone anyway?
For my birthday back in September I requested a Hawaiian pizza (shut up) knowing that I usually order the most generic pizza that the largest number of people would enjoy. But for my birthday I wanted Hawaiian and I asked for it. Others enjoyed it anyway, but sometimes it's hard to ask for what you want, y'know?

Missed the Friday deadline by 10 minutes, but it's still Friday in many places, so I'll triumphantly hit post.

---
---
Need some more email in your life? If you're a regular reader but forget to check in, you can subscribe to a once-a-week email with links to the week's posts! Click here to sign up!