But first, happy 18th birthday to my blog! Eighteen years ago today I moved from a flat HTML site with monthly updates to updating daily/a few times a day on Blogger. Most of the archives are online and navigable by going to ARCHIVES in the left hand bar and using the dropdown to find the months/years.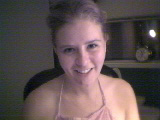 Maybe NOW the blog can get a job and make me some money?
---
Ok, NOW about the cake.

Faced with a low-key Christmas after a very difficult year, I decided to spend my time and precious little emotional energy making a fussy Christmas Yule Log Cake. If you're classy, it's also called a Buche de Noel. Why? I think I just had to give my brain something frivolous to obsess over rather than let it fixate on "will I kill my mother this Christmas?" and "will my nephews kill me this Christmas?"
My fridge and pantry were full of baking supplies and the stores were crowded with disease vectors so I wanted to make sure that any recipe I found used exactly what I had and that I wouldn't have to go out. And I succeeded! Except I had to use four different recipes to achieve that.
The cake roll is from Delish's Best Buche de Noel Recipe.
The cream cheese filling recipe came from Gimme Some Oven: Chocolate Roll.
The meringue mushroom recipe came from SugarGeekShow.
The frosting recipe is from Life, Love, and Sugar's Easy Chocolate Yule Log Cake.
I started at Delish.com, but their whipped cream filling required unflavored gelatin as a stabilizer. If you don't stabilize your whipped cream and make the cake ahead, there is a chance that the whipped cream will return to its liquidy form and we can't have that. I decided to go with a cream cheese filling and found the recipe at Gimme Some Oven, a yule log tree being basically a Swiss Roll decorated to look like a log. Delish's frosting recipe required more powdered sugar than I had left, and Gimme Some Oven's recipe wasn't frosted, so I found the whipped ganache recipe from Life, Love, and Sugar. But her recipe required sour cream for the cake (did not have enough) and mascarpone cheese for the filling (did not have). I ended up just using her frosting recipe. NONE of those recipes included the meringue mushroom decor (they required whole cranberries to sugar, which I did not have) which lead me to SugarGeekShow for the mushrooms.
On the 23rd I made the meringue mushrooms because they needed to bake for 2 hours at 225F then remain in the (turned off) oven overnight. If I baked the cake and THEN made the mushrooms, the oven would have taken forever to cool down to 225 and, nah, too much thought. I halved the recipe and still ended up with a half-sheet full of mushroom parts. Next time (never again) I'd probably make 1/4th the recipe.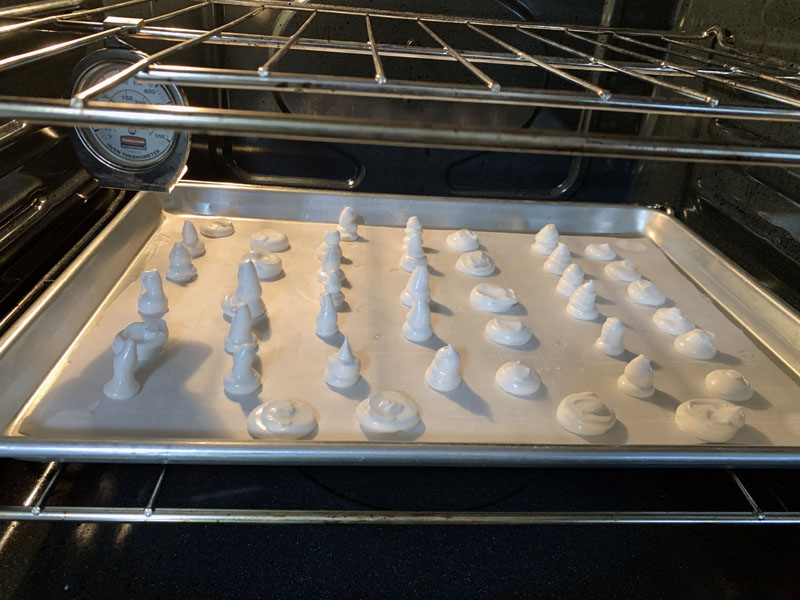 Which, yes, looked phallic.
On the 24th I successfully separated six eggs and baked the cake. To roll it up, I had to pull it from the oven, flop it onto a kitchen towel that was dusted with sugar, roll up the towel, and let it cool completely. Unrolling it too soon or letting it get too cold and then unrolling it before it comes to room temperature would have lead to cataclysms untold. Instead of that, I baked the cake late, rolled it up, and let it sit on my counter in the towel overnight. I worried that it would dry out, but it stayed nice and moist. The texture reminded me of a Drake's Devil Dog.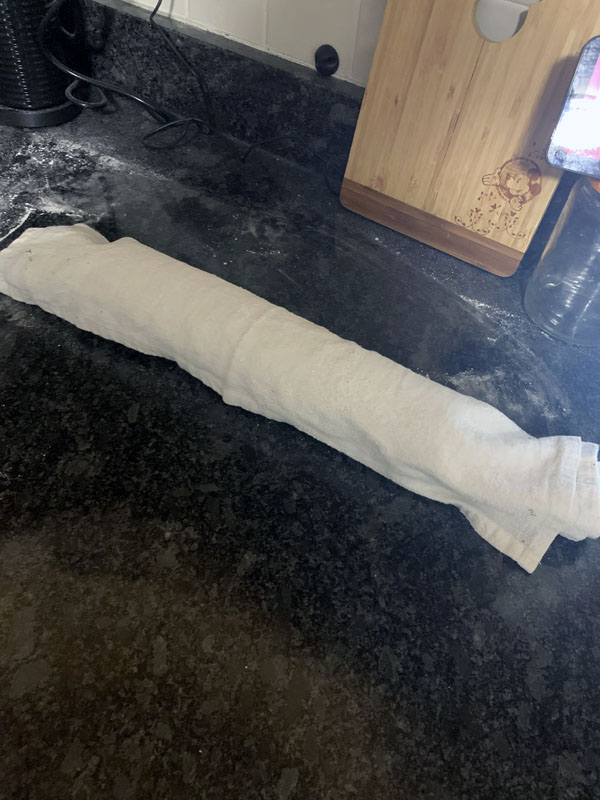 Instead of spending a pleasant, low-key Christmas morning snuggled with my husband in front of a roaring fire, I was in the kitchen, cake-fretting. (We don't have a fireplace anyway.) I whipped up the cream cheese filling using spreadable cream cheese instead of the block of cream cheese. It was FINE. Carefully, I unrolled the cake and spread the filling in. The innermost part of the roll cracked, but who even could see that? I rolled it back up without the towel, wrapped it in plastic wrap, and put it in the kitchen.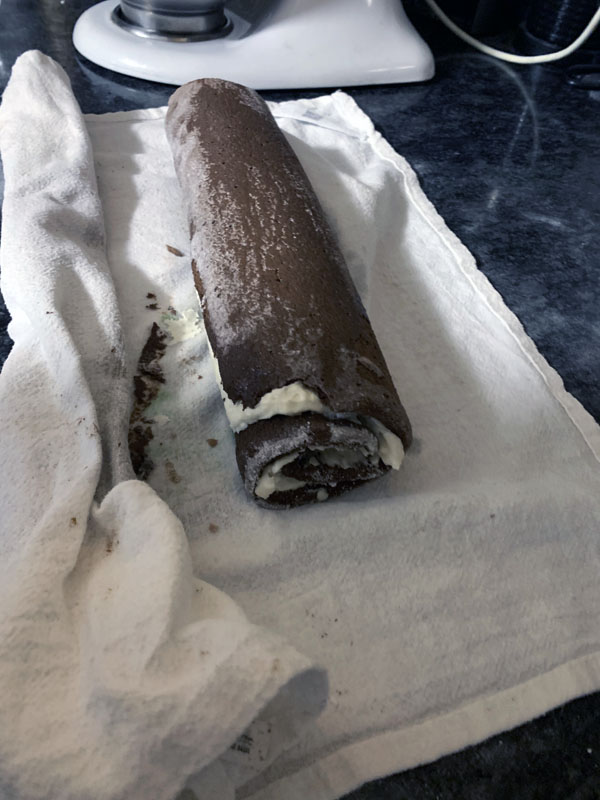 The frosting came together quickly, and soon it was time to decorate. When I cut the end off to create the "V" shape, I was so relieved to see that the swirled end looked nice.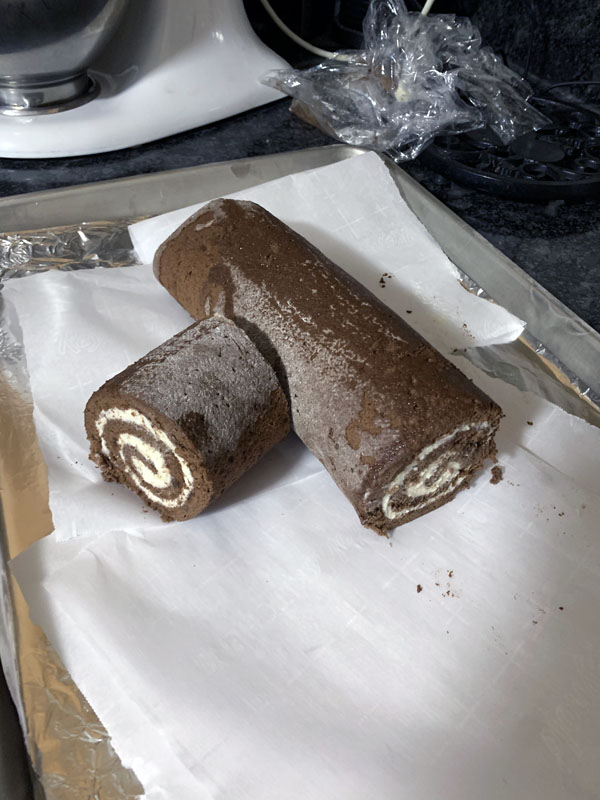 WM: What did you expect it to look like?
Me: It's 2020! I don't know! Mold? Roaches?
I used the ganache to stick the cut off tend to the rest of the log and then took pause. I don't really look at logs. How do I decorate this to look like a log?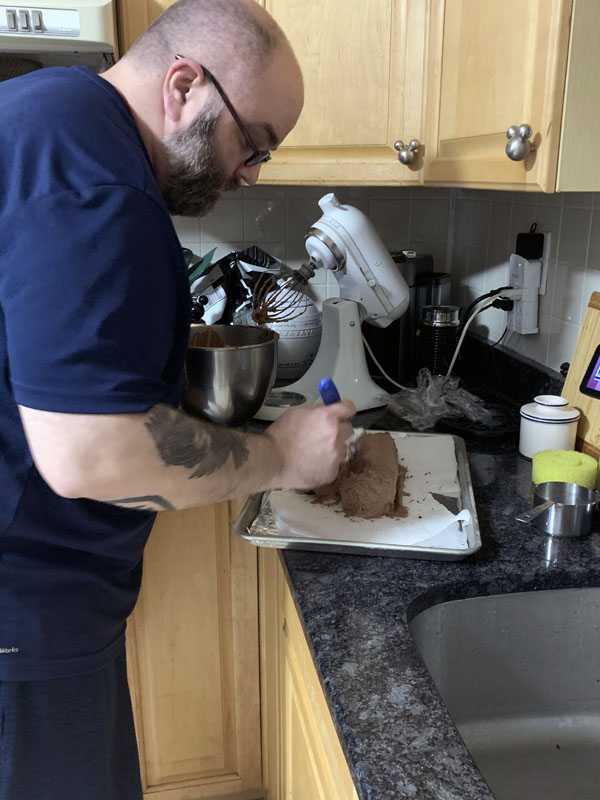 At this point, WM, a guy who knows what logs look like, swept in. Something you need to know: I bake things, but when it comes to decorating, WM is the pro. He's the one who frosts cookies and apparently he's the one who decorates cakes to look like logs. Next year I'm getting a gingerbread house and letting him have at it.
He used extra chocolate to shade the cracks in the log's bark. He tinted and froze thin sheets of frosting to create holly leaves and berries. He had the most success using melted semisweet chocolate to adhere the mushroom caps to the bases.
And LOOK AT WHAT WE DID!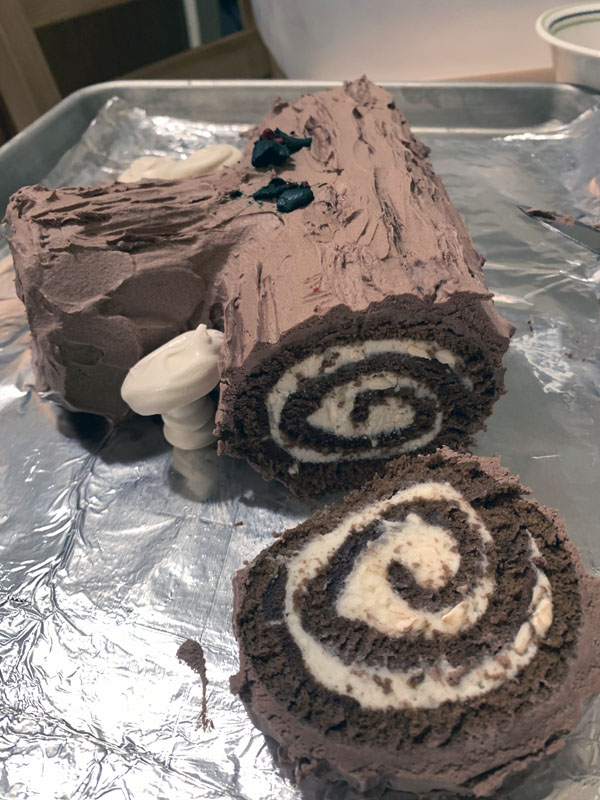 I'm not going to be humble. Despite the numerous recipes sued, the cake tasted FANTASTIC. Everyone loved it, even little Nephew B.
I will never make this cake again, but if I did, I'd probably apply some powdered sugar to it to make it look snowy. And maybe some slivered almonds to give it a bit of bracket fungus. I also would NOT use my nice white kitchen towel because it is irreparably stained brown.
(flash forward to 2055 where 83-year-old me is forced to create this cake for the 35th time)
Good news! If you're a regular reader but forget to check in, you can subscribe to a once-a-week email with links to that week's posts! Click here to sign up!