(blogged while listening to John Denver & The Muppets: A Christmas Together)
I enjoy sending and receiving cards for the holiday. It's an old-timey habit that I really thought was dying out a few years back. Turns out, you just need to find people who care about cards as much as you do!
In October/November of 2019, I began to dabble in making cards. I knew that I wanted to make some of our cards this year, but I knew that I would be overwhelmed knowing I had to make fifty-plus cards.
I also know that some people don't care if you make your own cards. They see the card and smile, but don't really know or appreciate the work involved in creating cards. I used to be irritated by that, but it's not a reflection on me or them. It is what it is. Because of that I sent the handmade cards to people I knew would appreciate them. Back in September, I purchased a stamp set from Whimsy Stamps called Happy Pugmas. It's sold out now, so no link. I couldn't resist the goofy pug faces, plus I know many people who have pugs. Win/win.
Immediately I knew this would be a challenge because these stamps would need to be colored and I am NOT a good colorer. I also only have a 24-count set of alcohol markers, because I didn't want to spend $7 PER MARKER for Copic markers. Especially on a hobby that I might quit any day. I started my experimenting early and found color combinations that I could live with. I made sure to document what colors I used so I could recreate the cards easily.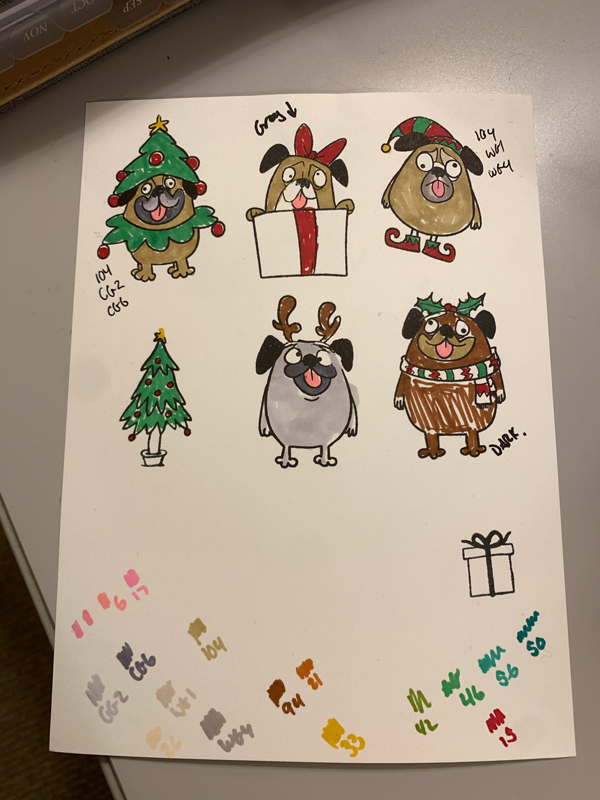 For this year's cards, I chose the gift box pug, the pug with the striped hat, and the pug with the scarf. In the end I ended up coloring the gift box pug's box blue and saving them for birthday cards this year.
And like every hobby I have picked up, the supplies and sheer scope of what you can be done is overwhelming. It's too easy to either spend a TON of money or just shut down. One of the tools that is worth the money is a stamp positioning tool. This lets you stamp over and over in the same spot, which is great when you're bulk-producing cards.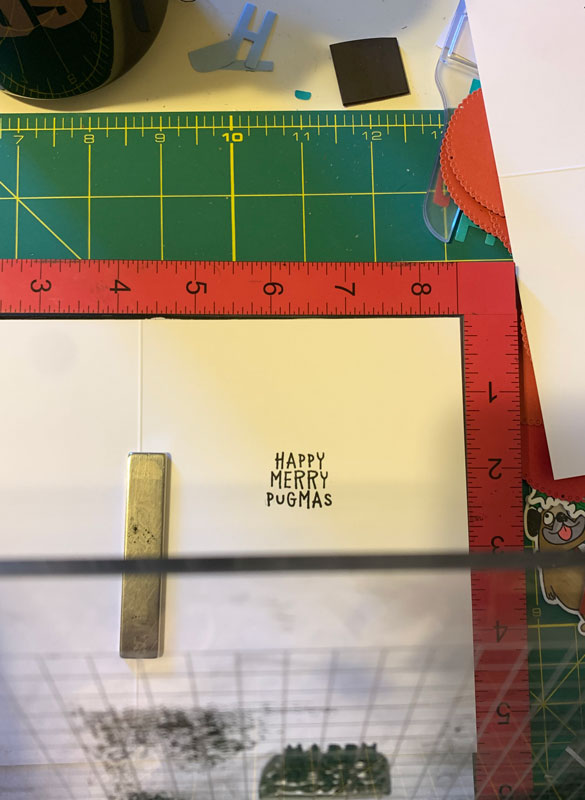 I stamped MANY cards.
For the pug cards, I cut a scalloped oval window out of red cardstock (from a generic pad I bought at Michael's, nothing special), used some patterned paper behind it (again, a no-name pad from Michael's), and used a little foam square to pop the pug a bit. I'm not 100% thrilled with my shading, but I'm happy with it.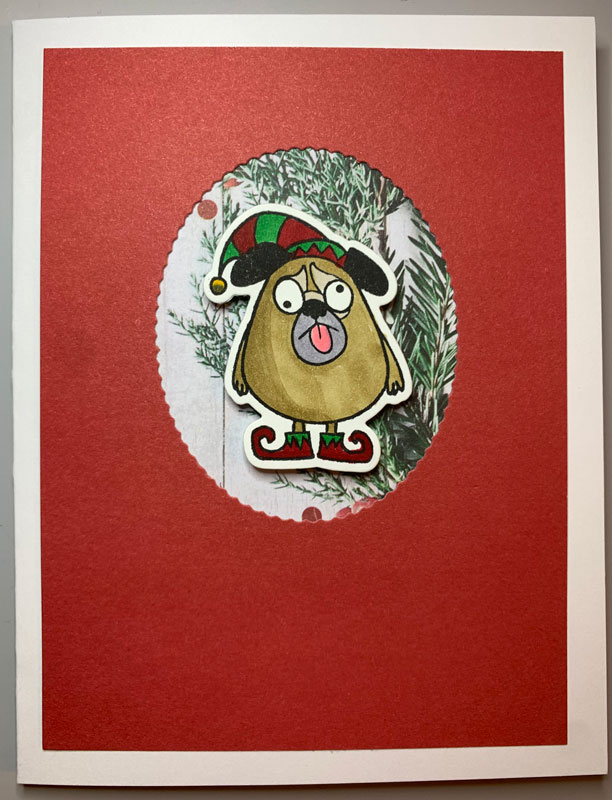 I QUICKLY BECAME TIRED OF PUGS.
Last January, I bought a reindeer die on clearance, thinking that would be my card for this year. That was before the pugs invaded my brain. For these cards, I cut the reindeer out of white and brown cardstock, pasted paper behind it and thought I was done.
Except my reindeer were eyeless, noseless shells of reindeer. So I cut a strip of black cardstock to use for the eyes, and a strip of red cardstock for the nose. And then I glued the eyes and noses in place. It was tedious, but it wasn't pug coloring.
There is a product called Crystal Drops that will add a raised shiny sheen to paper. I used it on the reindeers' noses and BOOM – we have a Rudolph!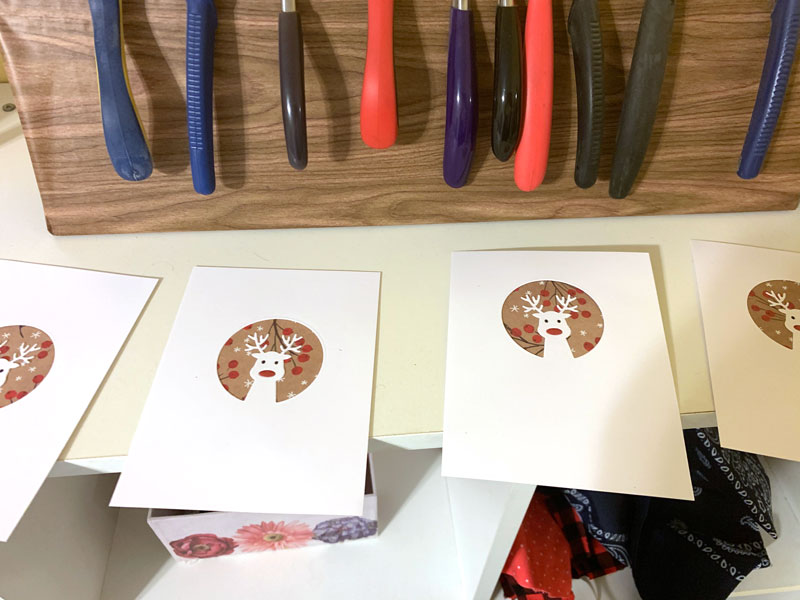 The white and brown (not pictured) panels were glued to red cardstock. I stamped "Happy Holidays" inside. From this angle you can see the glossy nose. Isn't it cute?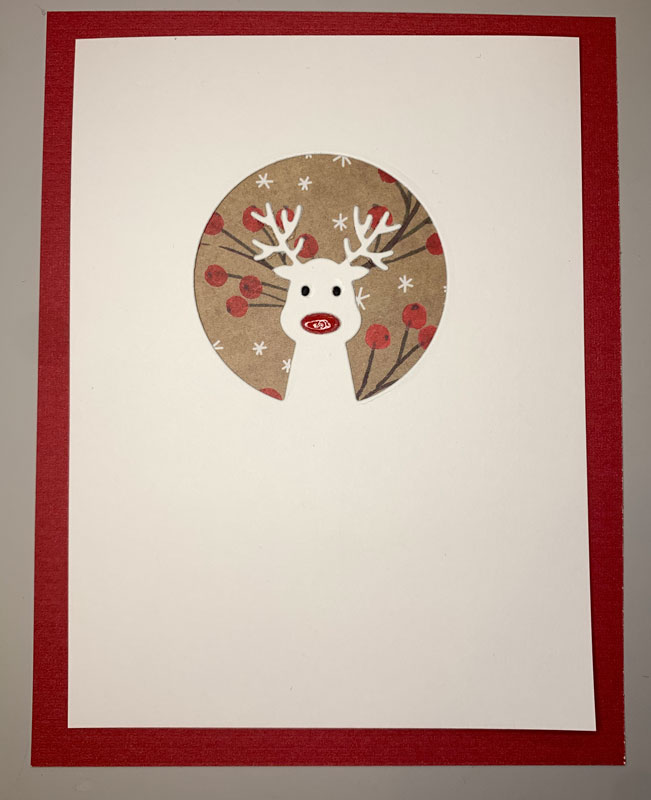 This looks completely overwhelming! But I did a little at a time each weekend through October and November. And I gave myself permission to bail on the project and send all professionally-printed cards this year if it became too much.
The homemade cards went to a card swap group that I'm a part of, to people who are also, and to the previously-referenced pug owners. Basically, to people who would appreciate them.
Everyone else received a card printed by Shutterfly. We started doing that last year, when I realized that families without children can send photo cards too! But what about this year? When we have really no good photos because we wore pajamas every day? Back in spring when tattoo shops were still closed in NJ, WM's tattoo artist participated in a fundraiser. He commissioned this piece featuring two dogs we all know and love.
He uploaded it to Shutterfly and BOOM. The rest of the cards came to be. I love this card as much as the ones I made.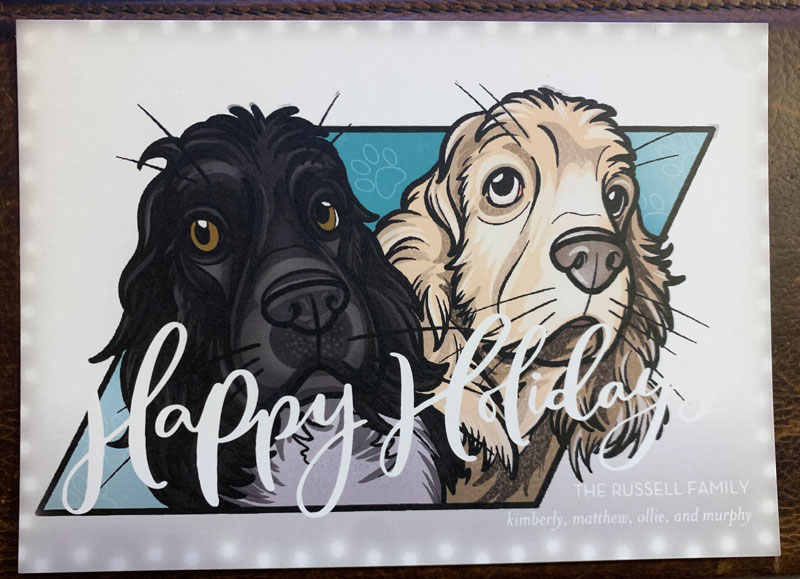 The cards (minus those I needed address updates for) were dropped in the mail on December 12th. And I wouldn't be a crafty person unless I used our pompous return address stamp and some Washi tape.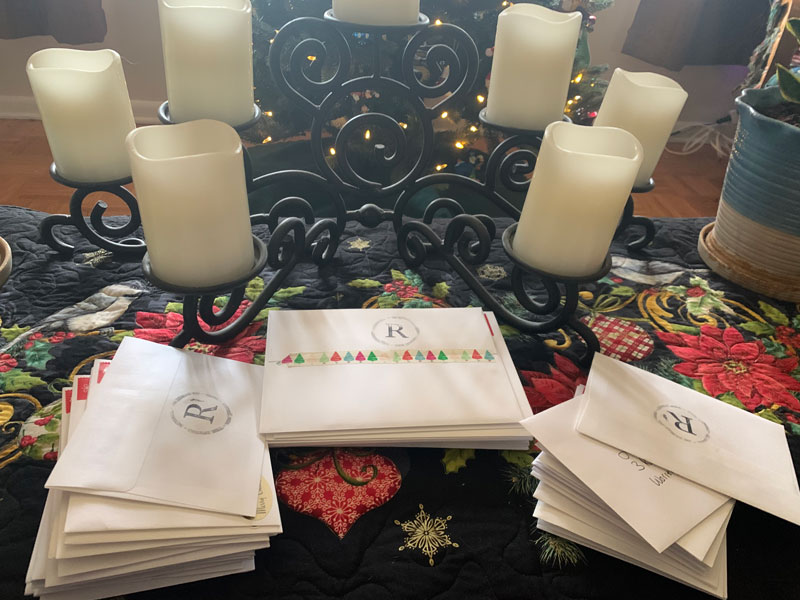 Ironically, most of the cards we received are from friends we met through the Internet. Because many of my meatspace family and friends don't send cards anymore. And I'm pretty sure many of the distant cousins have mostly disowned me because of my politics. That's fine! After a few years of my going online and saying "Do you want a card? DM me your address. I'm not a stalker! You don't need to reciprocate!" I built up a spreadsheet (of course) and we ended up with this…
and this…

And we'll receive even more in the coming days! And years!
Find your people. They're out there!
Good news! If you're a regular reader but forget to check in, you can subscribe to a once-a-week email with links to that week's posts! Click here to sign up!