On Friday night, we learned of the passing of Supreme Court Justice Ruth Bader Ginsburg. She's best known for being a liberal justice, but she was also a hell of a trailblazer. She was only one of 9 people in her class at Harvard Law. She was the first woman to be a member of the Harvard Law Review. She transferred to Columbia Law School and graduated at the top of her class to … no job offers because she was a woman. She was also one of the first women to teach at an American law school – Rutgers. (JERSEY, BAYYYYBYYYY!)
"People ask me sometimes… 'When will there be enough women on the court?' And my answer is: 'When there are nine.' People are shocked. But there'd been nine men, and nobody's ever raised a question about that."

Supreme Court Justice Ruth Bader Ginsburg
Dejected, WM and I toasted her memory – he with some of the good whiskey and me with a dark and stormy.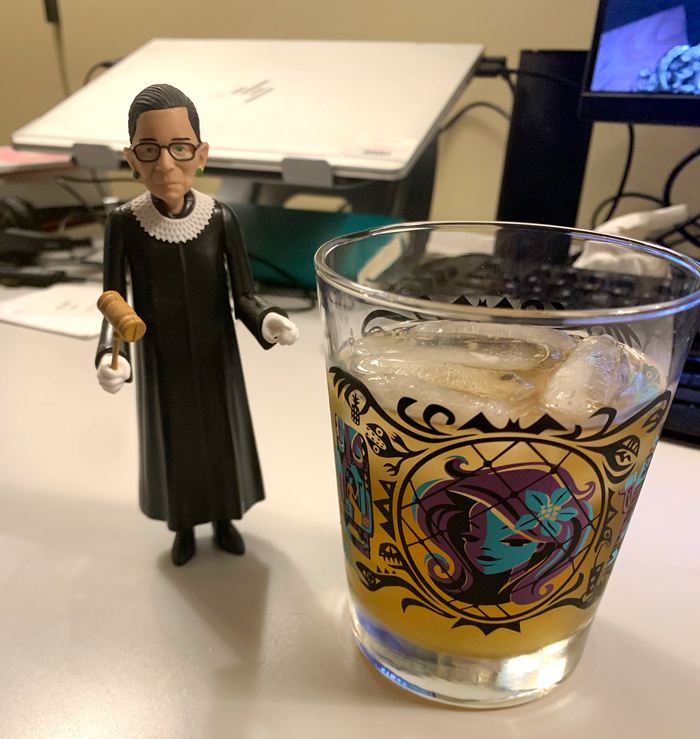 She was a hero to me and to many. And although I am TRULY worried as to what's going to happen to our liberties if Trump gets one of his evangelical, quiverful, or fratboy weirdos onto the court, I'll keep on sending my efforts and dollars to people who want to be on the right side of history.
Thank you, Justice Ginsburg. May your memory be a blessing.
Fuck you 2020.