(celebrating one year of success!)
In the middle of all of the abnormality and fear, the days grew longer and springtime returned. It seemed weird planning for a future in a world that seemed so dire, but I'm not going to prematurely lay down and die from an virus that may not even kill me in the first place. Thus, we're gardening. (insert quiet good-humoured resolve) This post is photo-heavy, so I'm going to pop a more tag after this gratuitous shot of a filthy, tangled gardener and her outdoor-loving dog.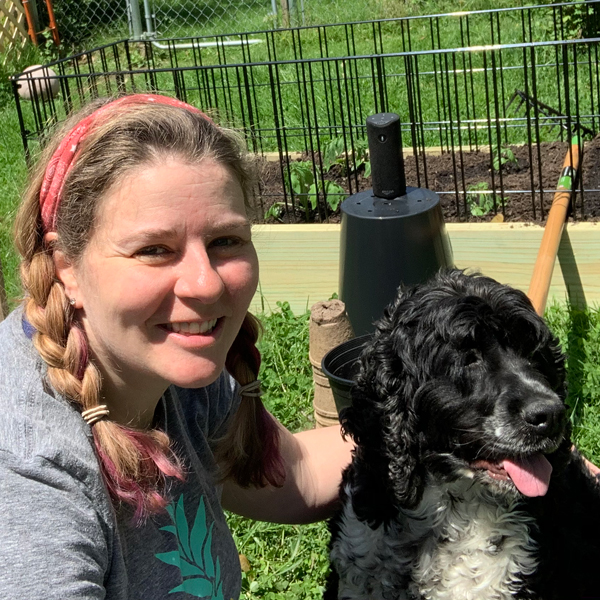 After the success of last year's garden crop we realized two things:
1) We needed to standardize the name to Angry Man Farm – singular – for consistency purposes. Pepperidge Farm is singular, and now so are we. See here for an explainer on the name Angry Man Farm.
2) We need more boxes!
WM delivered, building two 2×6 (ish) boxes and outfitting them with sleek black fencing to keep Murphy out. We couldn't find the fencing we wanted (hog fencing) but after some research we found that retail display grids are about the same price and work just as well.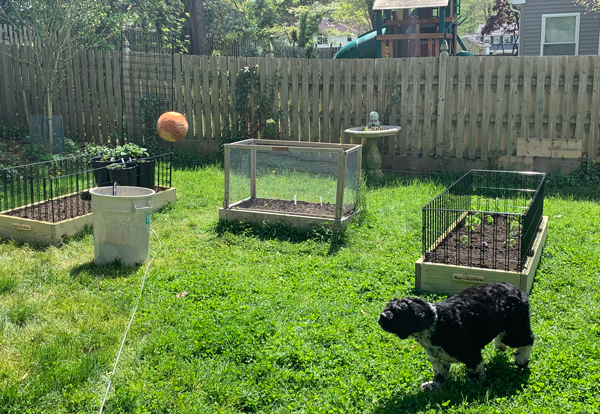 WM is amazing and talented and I love him a lot. He stenciled and woodburned these nameplates for the new beds and added a shmoopy touch.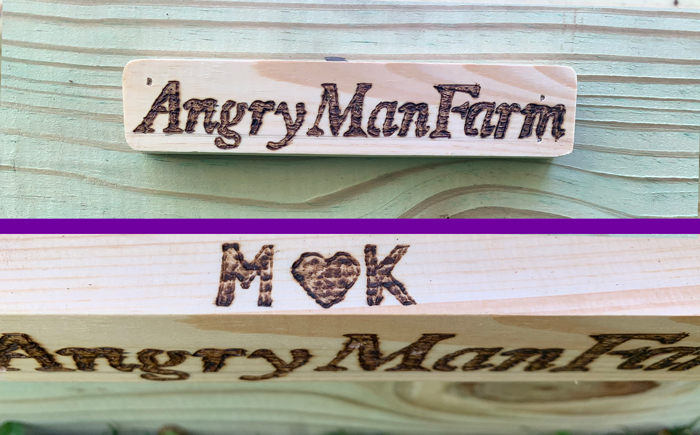 Here's the plan for 2020:
I planted some seeds from a tomato we harvested last year, and I'm calling them the Angry Man Varietal. This nomenclature is not correct in the least, but I am neither a biologist nor a master gardener so I don't care. I also planted some seeds from the Burpee packet we bought last year. The result was a bevy of plants. We kept the Angry Man tomatoes and gave the Burpees away to family and friends.
Do you remember how tall the tomatoes were last year? I remember saying we were going to grow fewer this year. Right. This year we have seven plants instead of five. Six in the box, one will go into the large pot that the green beans were in last year. The rationale is … we had too many to eat (and gave many away) last year, but not enough to preserve/can. Mmmhm.
The tomato plants (seen here as seedlings) are moving to one of the new boxes and will share space with green beans, which I sowed directly into the ground. Green beans grow quickly so I'm hopeful they'll hold their own with the tomatoes. I have two pepper plants in last year's box. I didn't have luck growing many pepper plants from seed this year so I sowed some of them directly into the soil too. They'll be sharing the box with onions, a new crop for us. Some of the onions are already tiny plants from seeds I planted in March and some are seeds directly sown into the ground.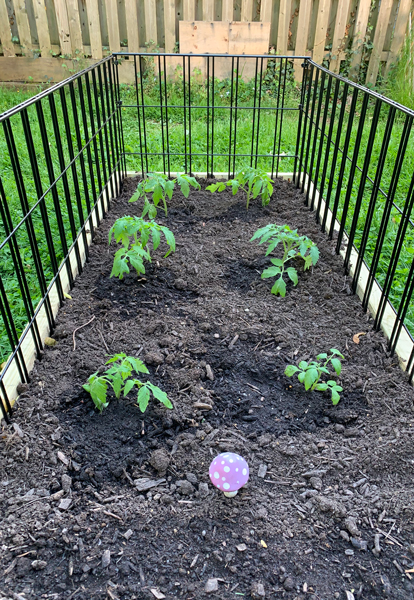 The other bed has a trellis on one side, which is where the cucumbers will go. I think they'll do better there than in a last year's container. I started them a week ago in pots and I'll transplant them when they get a few leaves on them. The rest of that box will be corn, which is a complete crapshoot. Can I even grow corn in my yard? Maybe? We'll see. They're also starting in posts. The tiny stalks have already appeared, and they'll be transplanted in a week or two.
Also new this year are potatoes! Inspired by an English gardener on Youtube, I started growing potatoes in buckets this spring. Those buckets are hanging out in the corn/cuke bed until I do the transplanting.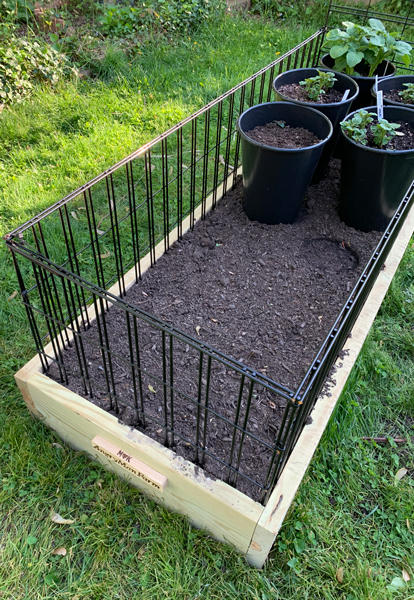 The herb boxes were refurbished. I have basil seedlings and chive seeds in one box, and cilantro seedlings and dill seeds in the other box.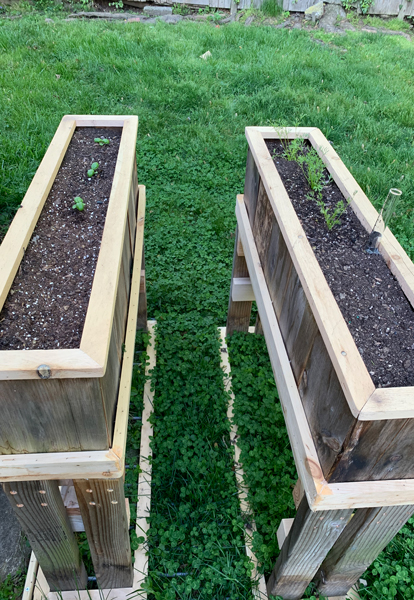 All of the potted herbs survived the winter, due to either a mild NJ winter, the greenhouse, or a combination of both. Our large pots contain mint, thyme, rosemary, sage, parsley, and oregano. We're growing lettuce in smaller pots, and all of the pots are on the 'patio' closer to the house.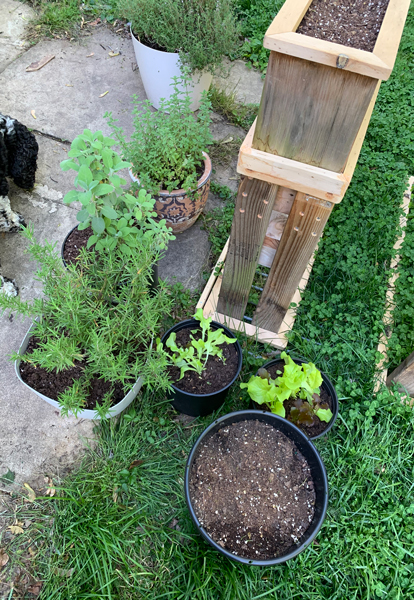 The front yard and garden continue to be a shitshow. We have dandelions and bare patches on the lawn, ivy that keeps clawing its way up our house, and a front garden that serves as a Ponderosa salad bar for the rabbits. I tossed a bag of pollinator mix in the front garden and called it good. We'll see what grows. Don't even care.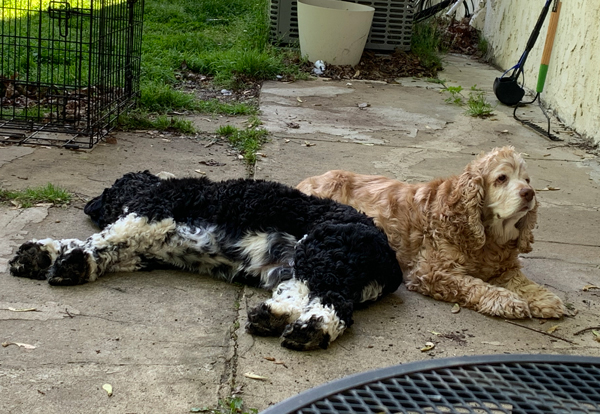 Getting everything set up and running filled my Saturday, and I spent today peeking out at the plants and fussing over them. (and being sore) I said this in an Instagram story (I do a lot of storying over there, in case you're interested in unfiltered, impromptu me), but when I was working on the garden, I felt the most normal and the most happy that I've felt in months.
Twenty-five year old me would roll her eyes, but I guess it's true that a little dirt is good for the soul.
That tranquility will be a boon when the effing BLUEBERRY BUSH that I ordered arrives.