This semester, WM has his night classes on Mondays and Wednesdays, meaning I'm on my own for dinners. He's not a fan of garlicky foods and garlic would my patronus, if a patronus could be a fragrant bulb. Meaning that on Mondays, we cook with garlic. With all of the basil growing in my garden, I knew I had to take a stab at making my own pesto, but for later.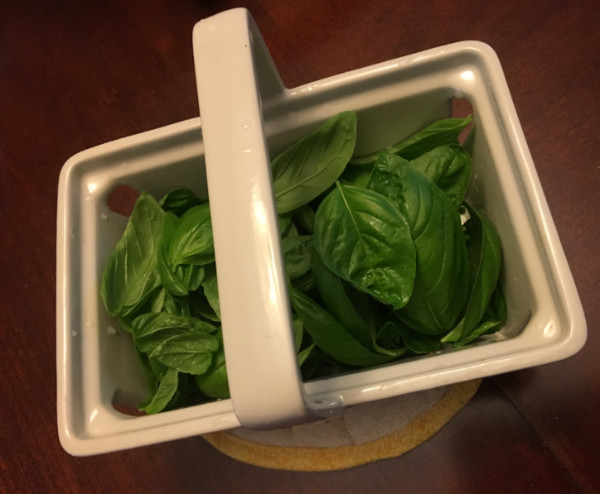 It took two of these filled 'baskets' to yield 2 cups of packed basil leaves.
I used this pesto recipe from the New York Times. I know traditional pesto uses pine nuts instead of walnuts, but I…I. Okay. I did grocery shopping at Target this week and didn't feel like going to another grocery store for pine nuts.
This isn't a food blog, people. 🙂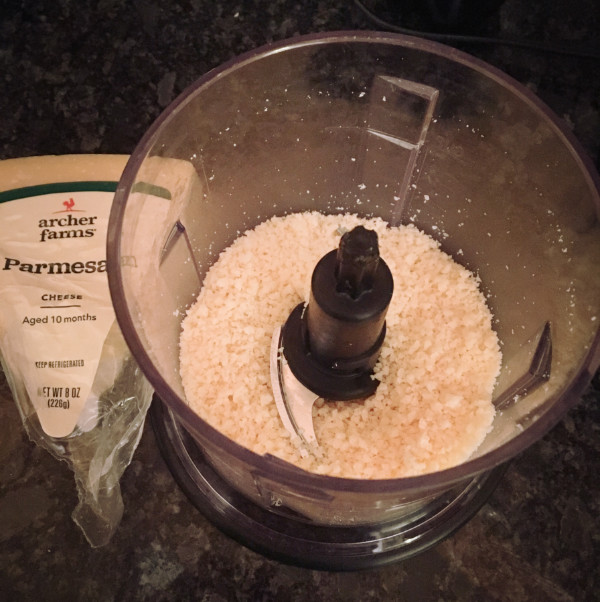 I did grate my own Parmesan cheese. I have a small Ninja unit from about 10 years ago that is an amazing chopper. I used it to blend the pesto, which smelled AMAZING. I tasted a dollop and can't wait to put it on some pasta.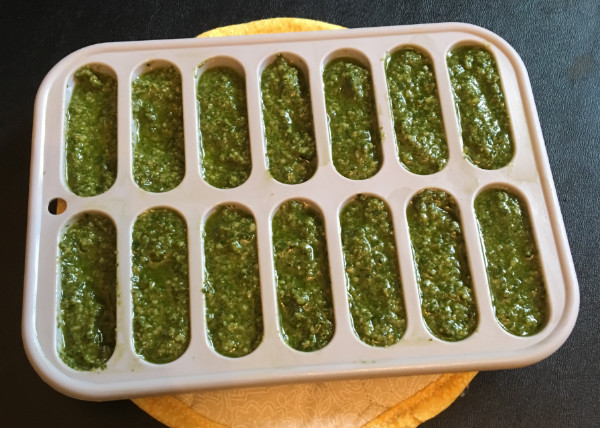 But wait I must, so I put it in an ice cube tray to freeze for later. I love these ice cube trays from Target. (not a sponsored link, I just love them.)
REASONS WHY I LOVE THESE TRAYS:
1) they are small. WM and I don't use a lot of ice, so we don't need to take up a lot of freezer real estate with regulation-sized trays
2) the cubes are skinny enough to drop into a skinny-necked water bottle.
3) they are silicone, so you can skoosh the cubes up from the bottom rather than having to crack them out of a hard plastic tray
The downside is that they're $2.99 a pop, and smaller than a standard tray that you'd get for less that.
Pesto can be stinky. I used a dedicated tray just for this. I put the filled tray into a gallon sized Ziploc bag before I put it into the freezer so that my freezer wouldn't smell like pesto. I let the cubes freeze overnight.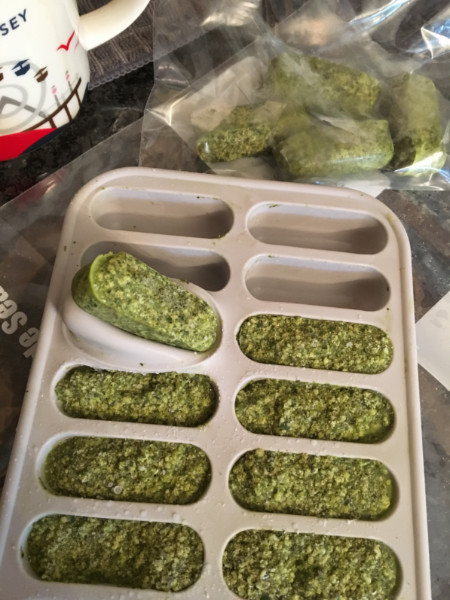 Four cubes went to Mom, and the balance are in my freezer waiting for Pasta Mondays!