Listening to the continuing rain. It started Saturday afternoon, but I did manage to get some time in at my personal "swim club."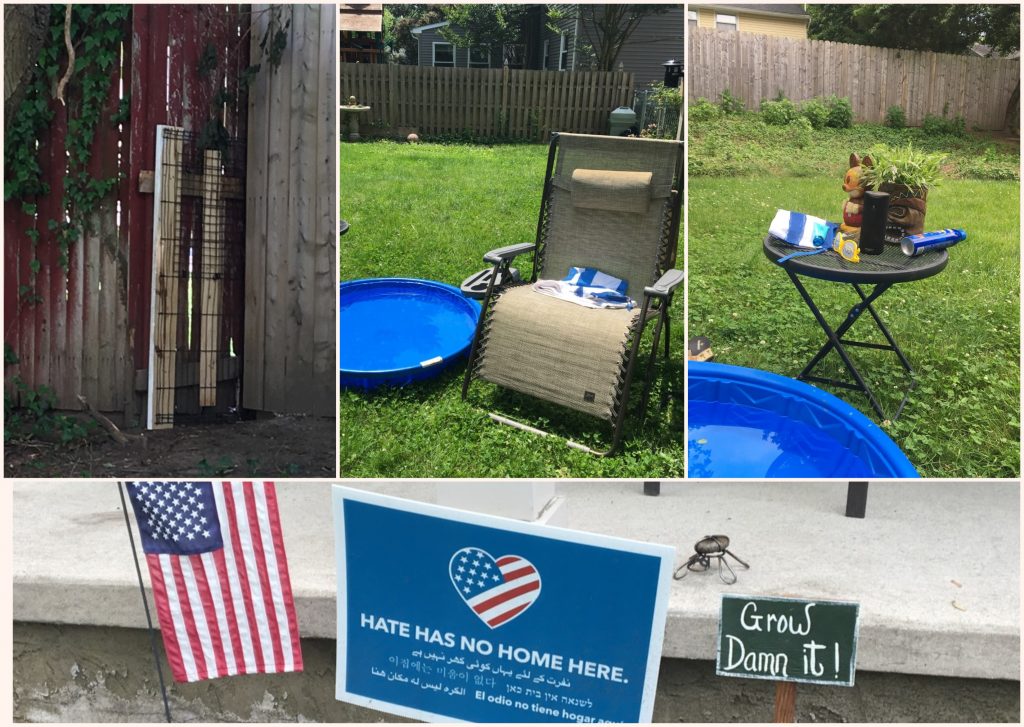 The handiwork at the top right is WM's effort to keep Murphy and Jack (the boxer living on the other side of that fence) from meeting. None of the fences that surround our yard are our own, but we do what we can to reinforce them. 🙂
Murphy is on the mend. WM's been up with him every night for the last 3 nights, making sure he gets let out when he has to go. He's (Murphy, not WM) still poopy but with much less frequency and increasing solidity. We are supplementing his regular food with canned food for digestive issues from the vet. He's back to normal energy levels, which I incomprehensibly missed. I miss my bird feeder, though.
Ollie is 3/4 of the way to being on new dog food. I'm hoping that's the key to getting him past the ear infection hump. It worked before.
Weeding the front garden. I put some perennial flowering plants in there, and now I'm waiting for them to take root.
Watching Westworld again. I caught up on the first year with this three minute animated video and I think I'm good to go. The show is so hopeless, though. There is no way the hosts can get a happy ending.
Reading Eleanor Oliphant is Completely Fine. All of the reviews say it's uplifting but I'm finding it very awkward and sad to get through. I'll keep pushing. The monthly Show us Your Books post comes Tuesday!
Laughing at this tweet…
ARE YOU CANADIAN pic.twitter.com/bd1dYNPWNf

— Anne T. Donahue (@annetdonahue) June 10, 2018
But hey, only 877 days until the 2020 election and then we'll actually play nice with our allies again instead of sucking up to North Korea.
Hoping that the mechanic's bill isn't too large tomorrow. Did you think I was talking about Molly, since I mentioned her locked lift gate on Friday? NOPE. This is our red Jeep, which started smelling like burning plastic ON THE WAY HOME from passing her inspection on Friday.
Working from home tomorrow.