Back online again! It turns out the problem I thought was solved here wasn't solved, and our Comcast (I will never get used to "Xfinity") service plonked yesterday morning, just as I was hooking up my laptop for my weekly work from home day. I ended up tossing on clothes (black top and navy sweater, because I didn't do laundry) and dashing into work. I made it by 10 am. Today the Comcast tech came and replaced the cable line. We are up and running and hopefully will be without problems forever and ever amen.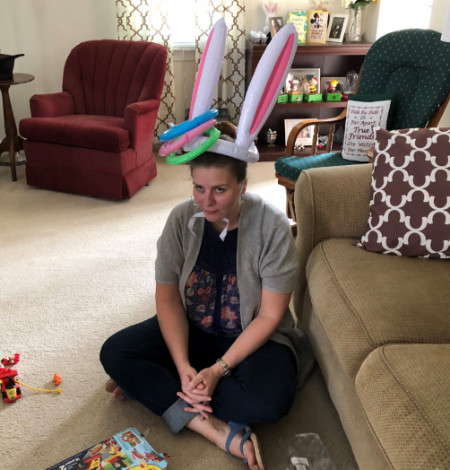 Easter was delightful as always for time spent with family but emotionally fraught as usual because it's another year that I am unchurched. I was raised Catholic but joined an Episcopalian Church about 8 years ago. And then I left that church because the pastor started veering away from the "love your neighbor" message and aligned himself with the Church of Nigeria and … nope. I feel my unchurchedness strongly around Easter, but I never look for a church this time of year because I'd feel like a bandwagon fan.
ANYWAY, religious angst aside, I made these!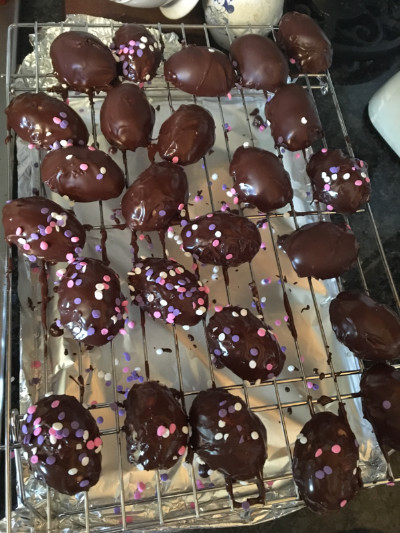 The recipe is here and although reviewers felt it was too sweet it was A-OKAY for House Russell. I'd like to find a better chocolate substitute – one that doesn't melt at the slightest touch.
On Saturday, Mom and I did our yearly Easter bread/ham pie baking: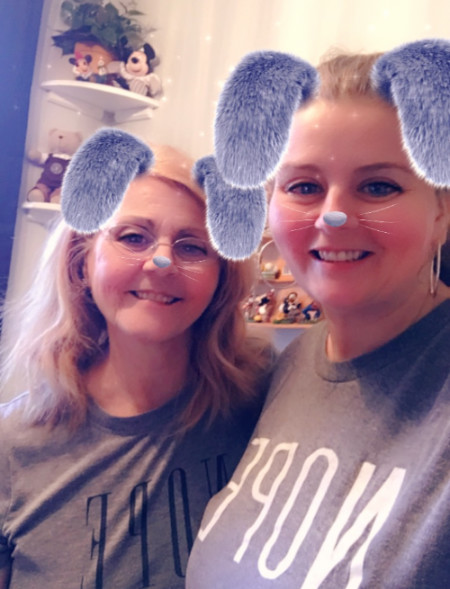 And WM got a much-longed-for tattoo. He went to Deanna at DNA Tattooing in Williamstown, NJ.
I'll put the picture of the finished product down a bit for people who are squeamish about shiny reddish newly-done-tattoo pics.
I'm currently suffering a janky left thumb/hand injury because I got sucked into I Love Hue for my phone. I guess was holding the phone too tightly when I was playing and when I touch my left thumb to my left palm, ouch. I'm self-medicating with Aleve and a thumb brace. Between that, other general aches and pains, and the fact that my jawline in photos is … softening … I feel 120 years old right now.
But I'm a 120-year-old who came in SECOND PLACE in her brother's NCAA pool so huzzah! That'll buy me some more peanut butter and an Icy Hot Smart Relief system…

Keep scrolling for tattoo!