Hoping: Villanova takes it all. My brother runs our NCAA pool every year, and I'm in the thick of it.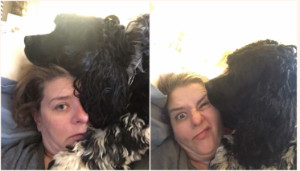 Reading: The magazines piled up on my table. O, Martha Stewart, and Clean Living, which cost $5 for a subscription and I got it as a total joke. I am … not that audience. It's too advanced for me. I should have started with "Mildly Dirty Eating" or "One Step Up from Filth Eating." I don't even know what some of the ingredients in that magazine are.
Blissing: out on the new nephew vibes. I spent some time with Nephews A and B today. A and I had an invigorating 4-song dance party, and then I held B for a bit as he slept and made little squeaky milk-drunk noises.
Aunt Kim's 4 song Dance Party Playlist:
> Finesse — Bruno Mars and Cardi B.
> Wannabe — Spice Girls
> Groove is in the Heart — Deee-Lite
> Happy — Pharrell
Watching: NXT. We have 3 episodes to catch up on. I also watched the first two episodes of Champions, which I want to love because it's a Mindy Kaling project. I'm on the fence about it. I'm hoping the cast gels more soon.
Debating: the merits of driving to Ulta tomorrow after work to replace my gray eyeliner (Stila Smudge Stick), versus ordering it and waiting a few days for it to come in.
Celebrating: the return of Spring this week. Goodbye, Winter! Don't let the door hit you in the ass on the way out, ya jerk. WM and I ordered some plants for the front yard, I'm thinking of a raised-bed vegetable garden, and I'm once again hopeful we'll get some grass to grow in the front yard.
(You know how this ends, right? In six weeks I'll be drinking a Sam Adams Summer Ale while surveying my dust bowl of a yard.)