Firstly, check out this gloriousness:
Look at this! Getty Images lets you embed their work on your unprofitable blog now! Actually they started it in 2014 but it's news to me!
Our US Curling boys brought home the gold. WM woke up in the middle of the night to watch.
WM: Hey. I'm awake so I'm going down to watch curling.
Me: mmffsnortdrool-YouEssAyy-slobber
And then I watched the replay later. Curling is like bowling, billiards and skeeball … on ice. How can you not love it?
I really enjoyed this Olympics because the scrappy unknowns quite often stole the show. Now that they're over, I'm looking forward to the return of The Good Place and catching up on my HGTV shows.
***
The face bite is healing very well. Murphy was 'sentenced' to 10 days of home confinement/observation to make sure he isn't rabid (spoiler: he's not rabid) and then either I have to take him to the vet to get a paper signed that he's alive and well, or Animal Control has to come to the house to verify he's alive and well.
Listen, I don't care overly much about what the neighbors think of us. I'm sure they all have a hearty laugh at our failure to grow grass and how the local bunny militia eats any decorative plant we put into the garden. I know they probably roll their eyes at our barky dog. But I draw the line at having an animal control van in front of my house. I still have a standard or two.
***
It's time for the Friday 5 on Sunday because I spent most of this rainy weekend reading books instead of doing actual chores. This week's theme is Korea Guidance. Let's get to it!
1. What would be a better name for the color of goldenrod-colored paper?
Margarine. It's better as a color name than as a spread.
2. Where did you get your silverware?
The Disney store and Target. Don't hate.
3. It is a weird tradition in America (and possibly elsewhere) for parents to have their children's baby shoes bronzed. What artifact from this past week would you have bronzed as a keepsake and heirloom?
If you click the bronzing link, you'll see that the company is out of business after bronzing 14 million shoes since 1934. It was a different world then, because babies had only one pair of utilitarian white shoes at a time that they wore until they grew out of them. Now there are Uggs for newborns, so the novelty of having a well-worn first pair of shoes doesn't exist anymore.
We bought a spiffy sliding miter saw from Home Depot yesterday, but I wouldn't bronze it because that baby is going to deliver us a few nice sets of built-in bookshelves! I bought a pair of goggles for myself and I'm looking at this: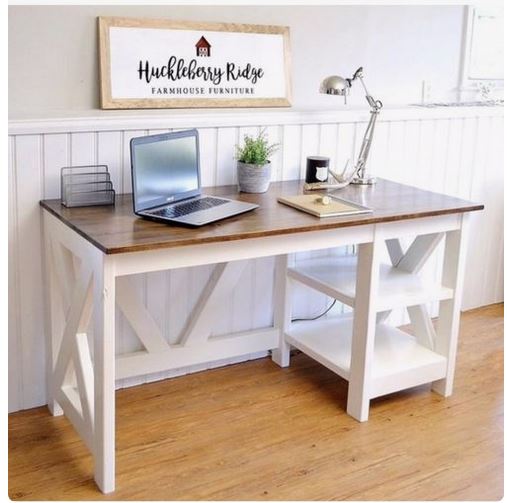 Because apparently I think I can skip right by beginner-level projects. I'm not even into "farmhouse" style but that desk is gorgeous. Have mercy.
4. What was the most recent ceremony you attended?
Do funerals count? No? Then I had a wedding in September.
5. What east Asian cuisine is good for your Seoul?
I am a basic white lady who has probably never had genuine Asian cuisine. When presented with a Chinese menu, I'll order chicken in garlic sauce, with brown rice and wonton soup.
***
Time to make the weekly lunches and then I think I'm headed back to the sofa to finish Song of Solomon because it is still rainy out.