I've now read 37 books in 2017, tracking 6 books behind where I should be. Boo! Hiss! Do pamphlets count? If I had to fish for an excuse it's this: I'm 15 months into a 16 month project at work and a lot of my spare time is being diverted toward learning the new reporting software. It took me an hour to build a report last night that usually takes me 5 minutes to build in the old software. But you know what? I built the report. And it's, like, 80% accurate. Old dog, new tricks. Again. Forever.
Onto the books!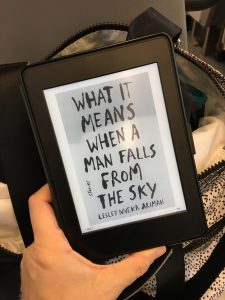 For reviews, I use the Goodreads scale, which is:
One star: did not like it
Two stars: it was ok
Three stars: liked it
Four stars: really liked it
Five stars: it was amazing
What It Means When a Man Falls from the Sky – Lesley Nneka Arimah
This is a collection of original and really distinctive short stories featuring women and what it means to be a wife, a mother, a daughter, a healer. There is happiness and sadness, violence and love, brutal reality and magical reality. All of them are either set in Nigeria or feature Nigerians living in other countries. Four stars.
Sourdough — Robin Sloan
I enjoyed Mr. Penumbra's 24-hour Bookstore, so I was very excited for this book — a tale of a young woman and self-discovery featuring a magic sourdough starter, two brothers with a mysterious background, a robotic arm, an underground farmer's market, some weird biotech, and a group of women named Lois. If it sounds weird and fantastical that's because it is. But it's rooted firmly enough in the real world (or as real as the San Francisco tech scene ever could be) to separated it from tales of dragons and swords. This was a warm and kind read with no villains. I really want to learn to bake bread. Five stars!
Goodbye, Vitamin — Rachel Khong
It only took me 2 days' commute to finish this beautiful and gut-punchy book about a young woman named Ruth. Ruth is about 30 and moves home for a year to help her mother take care of her father who has early-stage Alzheimer's. Complicating matters is that Ruth's fiance just broke up with her in a very cruel way. Watching Ruth and her family members heal even as her father declines … I can only describe it as feel-good even though the sadness was palpable. As Ruth promised, this book ends a year into her stay, which makes it a little difficult for people like me who enjoy tidy endings. Five stars!
A Study in Scarlet Women — Sherry Thomas
Why do I continue to think that I enjoy the Sherlock Holmes world? I don't. I don't! Not any of the TV shows, not the books, not the Mary Russell books, and not this one. I REALLY wanted to like his version where Sherlock Holmes is actually Charlotte Holmes, a disgraced young spinster. But despite how behind I am on my reading goal, I abandoned it halfway through because it focused too much on Inspector Treadles, a male investigator. No star rating – DNF.
Al Franken, Giant of the Senate — Al Franken
Is it mean to say that I was never really a fan of Al Franken the comedian? Okay then, I'm mean. But I was very interested in his desire to go from the world of entertainment to the comedy that is US Politics. This was a fantastic book — the first quarter or so was about Franken's life before politics, which yeah yeah, you were super smart and precocious and a nerd before nerds were cool, Harvard, SNL, so edgy, I've heard this a million times. And then the book really takes off once he decides to run for the Minnesota Senate seat. The political process is not easy to read and some of the topics covered are throw-the-book frustrating. However, this is the book I needed to read right now. There were several laugh-out-loud moments, but it's Franken's passion for doing what (he believes) is right that shines the brightest. Five stars, and I hope Franken serves Minnesota and the rest of us for as long as he wants.
Gulp — Mary Roach
This is a typical Mary Roach book covering the digestive system from chewing to pooping. I laughed, I learned some things, I made a conscious decision not to snack while reading. There are references to human and animal testing, so some might find that upsetting. Four stars.
Currently reading:
Naked Statistics — Charles Wheelan. I am involved in a lot of spreadsheety reporting at my job, but I've always hated statistics. I'm slowly (I'm on my last renewal) working through chapter by chapter.
Console Wars – Blake J. Harris. Still. This is the book I pick up when I have nothing else available.
All of my book lists and reviews are on Goodreads.
This a part of the Show us Your Books linkup from Jana Says and Life According to Steph. If you want to read more bloggers gush about the books they've read this month, click the button below and have fun!