Eating: Martha Stewart's Snickerdoodle Crumb Bars. I had the ingredients on-hand today so I figured what the heck. They are tasty, but I had to bake them 15 minutes more than the recipe indicated for the middle to bake completely. That burned the bottom a bit, but I sliced off that part. Also, my streusel didn't clump up like it should have. I'll try them again for sure, but I think I'm going to bake it at 375 instead of 350 and adjust the streusel proportions so that it's chunkier.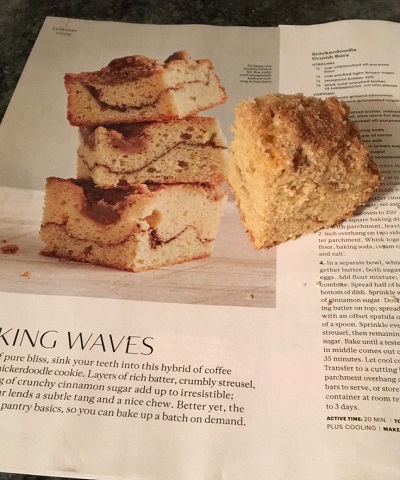 Watching: WWE No Mercy Pay-per-View. I pay $9.99 a month for the WWE network and get all of the monthly specials, so we turn them on. Even the lesser ones. On regulart TV this fall I'll be watching The Good Place because I have a soft spot for the world of Mike Schur TV shows. I'm going to give the Will & Grace (slight) reboot a shot. I enjoyed it way back when until it became the Jack and Karen show. And I'll probably start recording Martha and Snoop's Potluck Dinner Party because I am obviously still a member of the cult of Martha. Fuller House Season 3 is out, but I stopped watching Season 2 when 55 year old Aunt Becky decided she needed another baby. I didn't even get to the NKOTB episode.
Losing: Words with Friends. STILL. Look at this shame…

I want to say I'm improving, but I'm really not. I'll keep trying, though.
Aching because I started exercising again.
Reading: Chemistry by Weike Wang. Actually, I'll start it tomorrow on the train. This weekend I read Luvvie Ajayi's I'm Judging You, one of the books from my impromptu library trip Thursday night.
I can't quit Elizabeth Gilbert. I want to, but am unable to.
Searching: For a nice photo editing app for my Surface that will let me resize photos and adjust the levels. Right now I'm resorting to Paint and Paint 3D. I know there has to be better.