I have always, always been a nail-biter and cuticle-picker. You can tell from the scant photos of my fingers on the Internet because I have almost always hidden them when showing pictures of me holding something.
I have not destroyed my fingers since March, which is the longest I think I've gone. I'm not saying I'll never relapse, but I think I'm in a good enough place where I can write about what worked.
How'd I get here?
I mostly stopped biting my nails during the worst of the Covid pandemic. Not wanting to die from a mysterious illness is a VERY good deterrent from putting one's hands in one's mouth. For those reading this in the far future, in the early part of 2020 people were washing our groceries and mail. People were getting changed in garages and on porches before coming inside. It was rough. I do not recommend a global pandemic to start you on your journey to neat and tidy fingernails.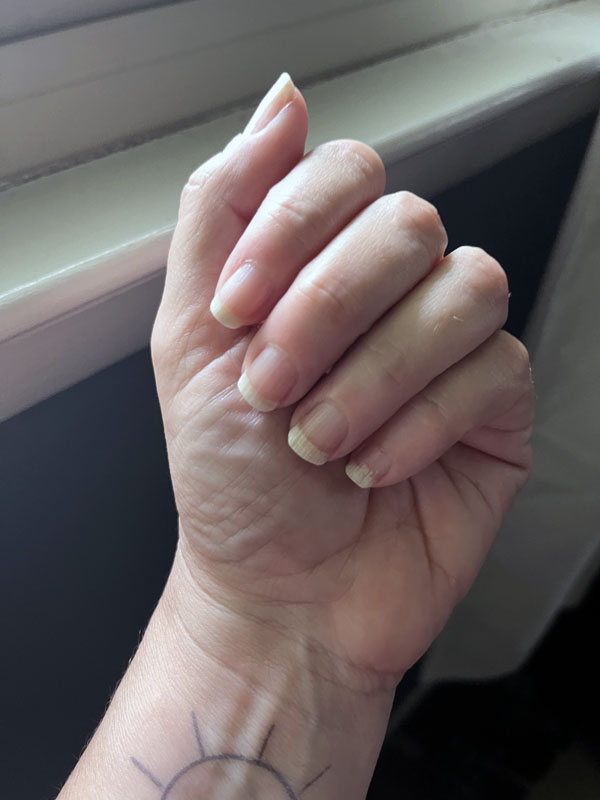 Even though I did still bite occasionally I substituted by picking at my nails and cuticles with wild abandon. At the end of March of this year I was tired of my sore and bleeding cuticles and decided to put some Aquaphor on them to help heal. I put the Aquaphor in my desk drawer where I could easily get it. And I did the same thing the next day. And the day after that. Whenever I wanted to pick at my cuticles or nails, I applied the Aquaphor and followed it up with hand lotion.
It turns out that my nails grow pretty quickly when I stop picking at them. But they were jagged and uneven which made me want to pick at them to 'even them out. Which, as we all know, is not smart. I added a nail file and a pair of nail clippers to the desk drawer so whenever I felt a rough spot, I'd file it off. If a nail broke, I'd clip it down.
My next step was adding a nail strengthener to my desk drawer. I bought Nail-Aid Keratin 3 Day Growth Nail Treatment & Strengthener. (not an affiliate link) in April to try and get my new little nails stronger and shinier. I'd apply it every day at lunchtime until it became thick enough for me to want to peel off. That is a no-no. I'd use some nail polish remover instead, let the nails be natural for a few days, and try again.
In May I ran out of Aquaphor and substituted it with Almond Oil. My cuticles continued to heal and be soft and the new nail growth was less ridged.
I went to a conference in June and wanted to step up my tiny nails a bit so I bought some gel strips from Dashing Diva. I wasn't a fan of having to use an LED light to cure them and having them adhere to my nails so tightly REALLY made me want to pick them off. This might be fine for everyone else but not me at this point in my life. Maybe someday.
Ready for color, I bought a few nail polishes and a few sets of Color Street nail strips. Bingo. I enjoy having my nails look nice and not having to hide my fingers.
This was not a linear process – there were relapses and setbacks but each time I relapsed it was a smaller "infraction" and a quicker recovery.
Now I polish my nails or put some Color Street (links to my consultant's page) strips on them and let them go. After about 8-9 days, the polish is chipped and I take it off. I cannot cannot CANNOT allow myself to pick at and peel the polish off of my nails because that is dangerously close to me picking at my nails. I trim my nails down, oil them up, let them be natural for a few days and polish again.
Challenges:
Length: After 5 decades of nubs, I'm having to relearn how to type, how to grab things, how to use my phone. I drop things a lot. I scratch myself a lot. One day when blowing my nose I scratched the inside of my nose and gave myself a wicked nosebleed! Because of that I need to keep my nails trimmed. My "long" is many people's "short" and that's okay.
Chipping/breaking: After 5 decades of destroying my nails, they're not in the best of shape and because of my age they might not ever be fantastic. Some days they're really soft and bendable which is not what I expected and is a little gross. Other days they're brittle and I'll break one by doing the most mundane things. When one breaks I have to immediately grab a nail clipper or else the desire to rip it off myself is WAY too strong.
Setbacks: I'm very bummed when one breaks and "the set" isn't perfect. And if I absentmindedly pick my cuticle I feel TERRIBLE. But when I am not always picking the nails grow back and the cuticles heal quickly.
Is it easy?
NO. I replaced one compulsion (nail destruction) with another, more socially acceptable one (constant filing and vigilance). But it's worth it. I can't wait to try some Mickey Mouse nail art for my next WDW trip. I can't wait to buy a new bottle of Lincoln Park After Dark and wear it when I'm feeling moody this fall/winter.
And there you go. If this post disappears it's because I gave in and bit my fingers to the knuckle.
---
Good news! If you're a regular reader but forget to check in, you can subscribe to a once-a-week email with links to that week's posts! Click here to sign up!