Even if you're a gigantic loser like me who bailed out of the movie Up after the first harrowing 10 minutes, you're probably familiar with the image of Carl and Ellie's house being lifted from the ground by a bunch of balloons coming from the chimney.
For Christmas, the lovely Kristen gifted us a wooden model of Carl & Ellie's house. With a little wood glue applied via a syringe and a LOT of patience (and some swearing) I assembled the house back in March. This was the finished product.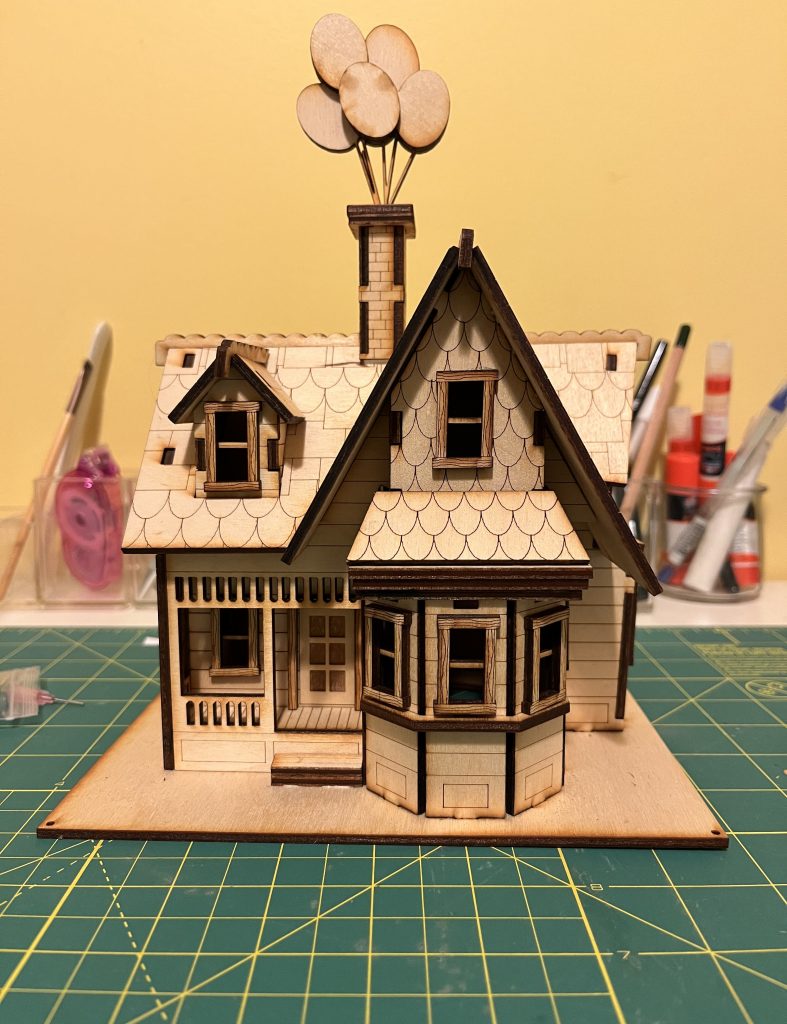 It was fine. FINE! Or it WAS fine, until I decided it would be neat to add some color to it. Thus began my descent into craft madness.
It's a very colorful house in the movie and of course I didn't have any craft paint in those colors. Off to Michael's we went.
Three and a half hours later, I had success.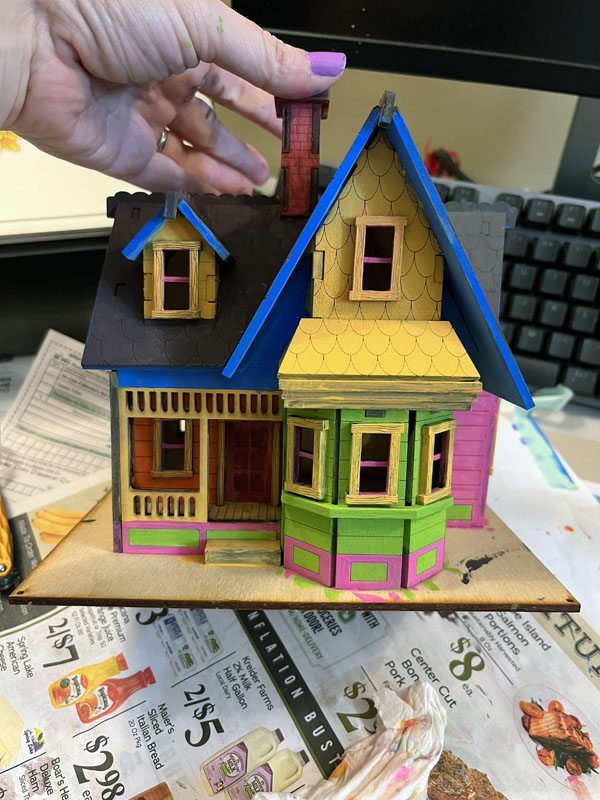 Except the blue eaves were completely wrong and the windows needed some more of the pink around them and the yellow was streaky. Easy enough. I mixed some paint to create a lavender color for the eaves. I painted another coat of the orangey-yellow and added some pink inside the window frames. Hard to see from photos, but better looking in person.
And then there was the base – what was I going to do to cover the base since I forgot to cover it before painting and it was smudged with paint?
Grass. It needed a lawn. Obviously. Amazon to the rescue!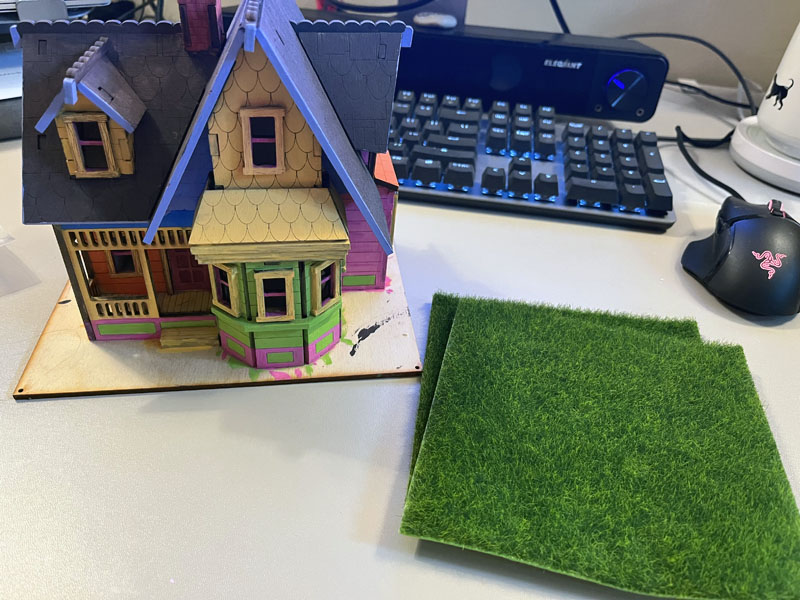 It took me two hours to cut this hellish fake grass with an X-Acto knife and glue it to the base with a hot glue gun. There were blades of fake grass all over my desk and probably still in my lungs.
Next problem: during the first round of painting I broke the wooden balloons off of the chimney. I could have just glued them back on and called it good. But no. I had to be extra and find BETTER balloons.
Once again, Amazon to the rescue. I found plastic balloons that were meant to be cake decorations.
Friends, when these arrived and I had them in my hands I cackled like an evil genius. We used white zip ties to secure the four smaller pieces into one large bunch of balloons. WM drilled a hole into the chimney (I was afraid I wouldn't drill straight down and end up punching a hole into the side) and with some hot glue magic, we had balloons again. BETTER balloons.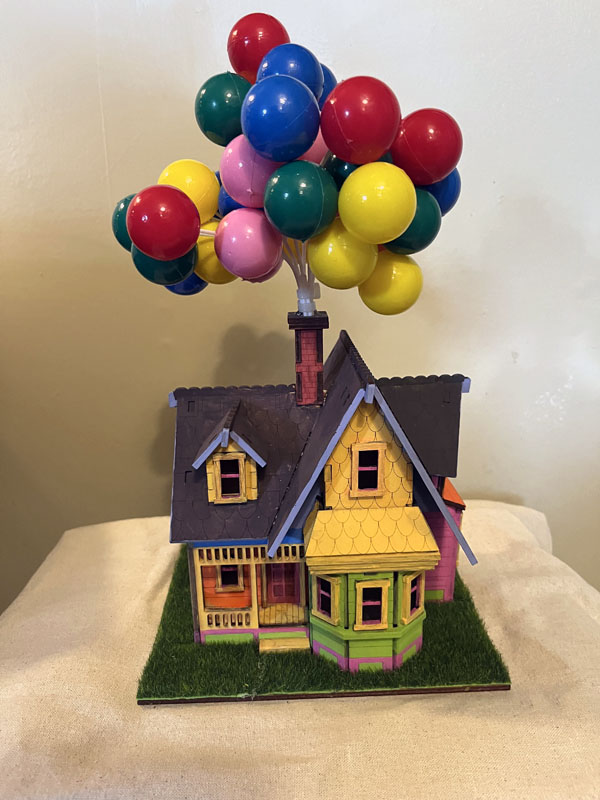 IS THIS NOT GORGEOUS?!??? Sometimes it pays to be a crazy woman.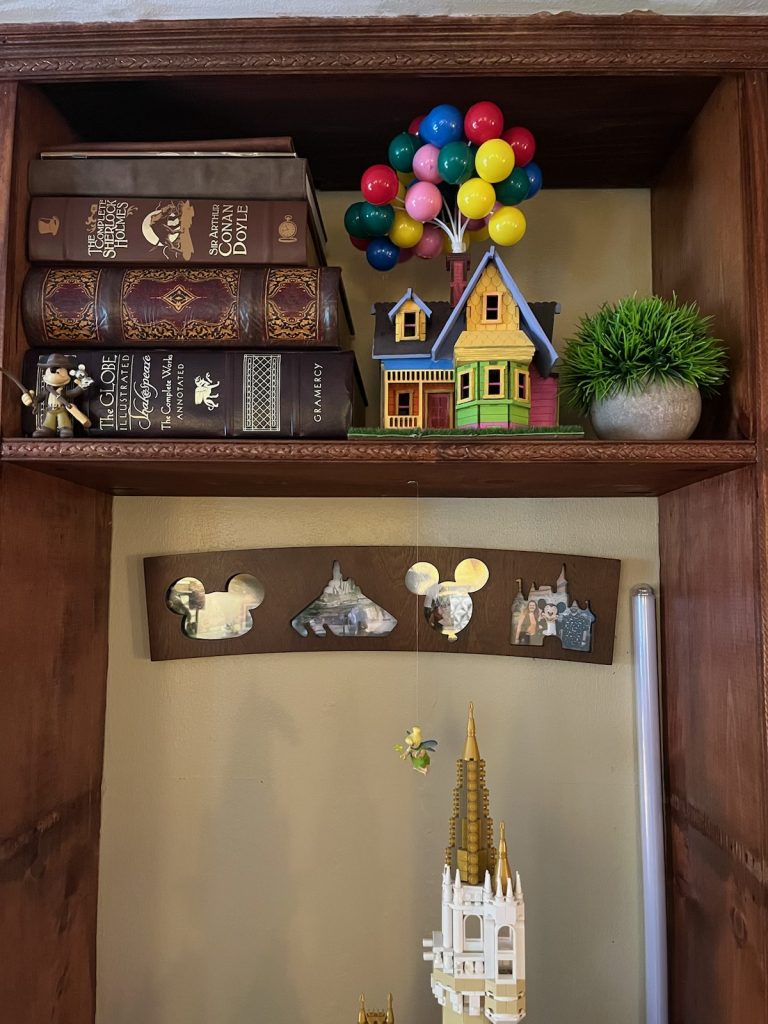 Here's the finished product on our bookshelf. I love it so much and it was worth the hot glue burns and the microscopic X-Acto cuts and the frustration. It's perfect.
Except I think I need a miniature mailbox…
---
Good news! If you're a regular reader but forget to check in, you can subscribe to a once-a-week email with links to that week's posts! Click here to sign up!