I am not a skin care expert. I am a normal person with a tendency toward laziness who was also gifted with very good genes. My primary concerns are pimples, rosacea, and dryness. Here is my fifty year old face's skin care regimen, which barely resembles any routine suggested by the experts.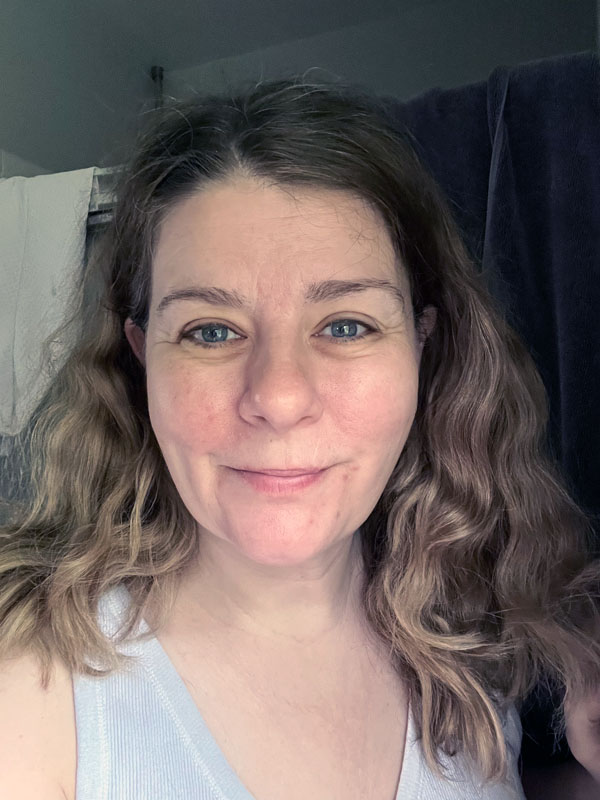 Morning:
Rinse with water, apply Paula's Choice Skin Perfecting 2% BHA Liquid Exfoliant.
About an hour later, I'll apply Neutrogena® Hydro Boost Gel-Cream with Hyaluronic Acid for Extra-Dry Skin.
Going out? I put on makeup.
Staying home but with Zoom calls with people who insist the camera goes on? I put on Great Lash mascara and lipstick. Lately it's been Clinique Black Honey.
Staying home with no meetings or with people who don't care about the camera? No makeup.
Evening:
Wash with IT Cosmetics Confidence in a Cleanser.
Apply a light coat of Soolantra to face.
I have been prescribed Soolantra before, but it takes a long time for it to start working and I usually nope out of the process when the going gets tough. This time I've vowed to stick with it, and I've been on it for about 8 weeks. I've gone through two "purges" during that time where I developed a bunch of pimples and a scaly, dry texture. But right now it's not as red as it normally is and it's very soft. I have some pimple scarring.
As needed:
A 2.5% Benzoyl Peroxide spot treatment for pimples. Right now I use Target's Up & Up brand and it's fine.
Drunk Elephant Virgin Marula Luxury Face Oil. I don't think it's worth the money.
Caudalie Pore Minimizing Instant Detox Mask when I feel extra oily or gross.
COOLA face sunscreen, SPF 30.
Cosmetic procedures: None so far. Every year I go for a skin check to see if my years of chasing the sun have caught up with me yet and so far, so good. Except for the few years of tanning booths (I miss tanning booths so much) I've been careful with the sun and sunscreen. But each time I go to my dermatologist, he suggests that I have Botox injections between my brows. He tells me that nobody would even notice the change in forehead smoothness. So far I've resisted, but he's really getting in my head. (I like him, leaving is not an option I'd entertain.)
In search of: A gentle retinol that won't make my face flake off, and a treatment for hyperpigmentation caused by pimple scarring that also won't make my face flake off. If you have any suggestions, leave them below!
---
---
Need some more email in your life? If you're a regular reader but forget to check in, you can subscribe to a once-a-week email with links to the week's posts! Click here to sign up!