Like many of the things 2020 brought us, last year's garden adventure was a bust. The squirrels (possibly a raccoon?) ate almost all of the corn before it fully ripened. Our herbs were hampered by a very late frost and struggled to recover. I tried growing tomatoes from the previous year's seeds and while the plants grew plentiful, most of the tomatoes stayed green and then rotted. The carrots didn't grow very long at all. We had an aphid infestation which was disgusting to say the least. And some critter cut the head off of each of my sunflowers. Like, one day the head bloomed, the next day the top of the stem was severed and the bloom was gone.
But it's 2021, and winter does something to make a person forget the previous year's woes. Let's try it again!
Here is the plan: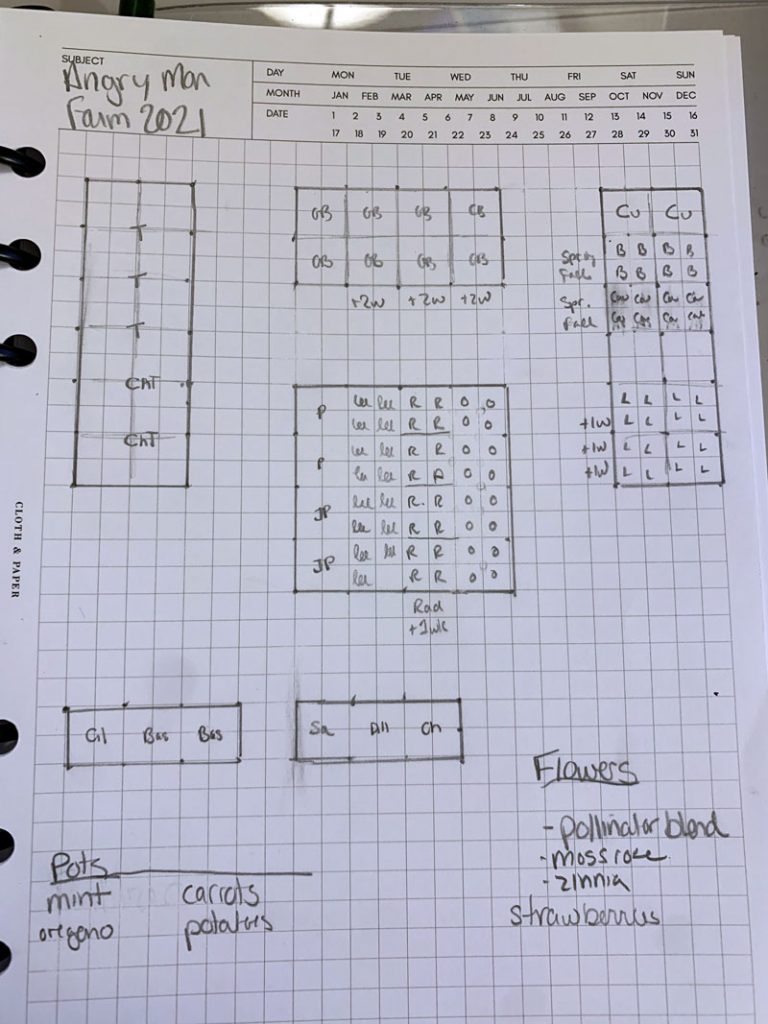 Above, we see the 3 existing garden boxes and the 2 existing herb boxes. The 4×4 box will be new this year. We'll build it end April/beginning May depending on the weather.
Box 1 (6×2): Three regular tomato plants and 2 cherry tomato plants. One of those, Black Pearl, has a great name and an interesting coloring.
Box 2 (6×2): Cucumbers up a trellis, beets, cauliflower (new to us), and lettuce.
Box 3 (2×4, the original box): Green beans. These were a hit with us veggie-reluctant adults last year. I'm looking to harvest enough to can some for the winter.
Box 4 (4×4, to be built): Sweet peppers, jalapeno peppers, leeks (new to us), radishes, and onions.
Herb box 1: Cilantro and basil
Herb box 2: Sage, dill, and chives.
Various pots: Carrots, potatoes, strawberries (new to us!), and lavender (I never get this to grow)
Perennials from last year: Thyme, rosemary, mint, oregano. These will all be repotted.
Other things from last year: We planted 3 blueberry bushes last summer.
Flowers for the front of the house: Moss roses (seeds from last year's plants) in pots on the porch, and Zinnias and Burpee's Pollinator blend in the front bed. I'm hoping to see a hummingbird this year!
What we're doing differently: We are not planting corn, because I can't figure out a way to protect it without creating a hell-in-the-cell style cage. I'm also skipping sunflowers, because they almost always end in despair. We'll be mixing some sand into the carrot pots to make the soil less dense. And I'm back to using the Jiffy peat pellets to start my seeds instead of soil like last year. The soil worked, but our soil is very dense and it took longer for the seedings to poke through.

Last weekend I started some seeds!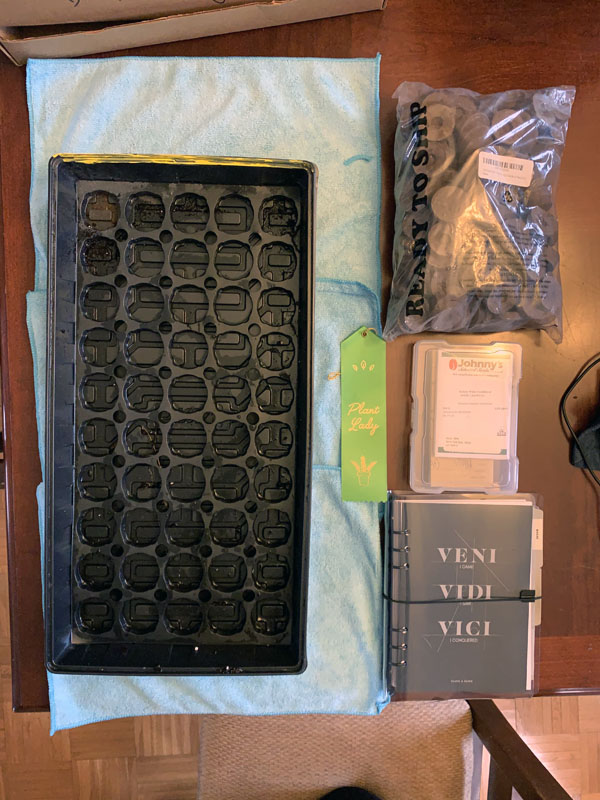 The peat pellets come in flattened discs, which expand to almost 7 times their size when you add water. It makes for a fantastic time lapse video, which would only be better if I had shot in landscape mode. Behold my effort at video content!
We're still pivoting to video content, right? No? Okay then.
Last weekend I planted:
Sage
Lavender
Sweet pepper
Jalapeno pepper
Cauliflower
Moss Roses
That tray pictured above comes with a plastic lid. Once the seeds were planted in each pellet, I popped the lid on and sat it upon a bookshelf in the guest room. And a few days ago, the tiniest moss rose sprouts appeared!
Out of this first set, the cauliflower will go outside April 10th, and the rest of the tray will go outside May 10th. Next week I plant some more seeds!
Confidential to JK: Thanks for installing my SSL cert!
---
---
Need some more email in your life? If you're a regular reader but forget to check in, you can subscribe to a once-a-week email with links to the week's posts! Click here to sign up!