I unapologetically watch Hallmark Christmas movies between Thanksgiving until New Year's. I love all of their cheesiness and I'm all for thin plots and happy endings. Here are few that I've seen lately…all movies are on Hallmark unless indicated otherwise.
One Royal Holiday
THIS IS MY FAVORITE EVER. The stodgy Crown Prince of Gallick, his mother the Queen of Gallick, and their hunky bodyguard are traveling to the airport after visiting the Boston Hospital where the late King had a heart procedure before he became … late. Our heroine, a plucky cardiac nurse at a Boston Hospital is driving home for Christmas. They meet at a donut shop where the Royals discover that all flights have been grounded. Luckily, our heroine is nosy and lets them know that her father owns a gorgeous inn in a small town in Connecticut. The driver quits on the spot and our heroine drives the royals home.
There is precious little plot to bog us down and no precocious children to get in the way of romance. Christmas is everywhere, love is all around, a big coincidence is revealed. The mayor of the little town hooks up with the hunky bodyguard. And our couple dance a gorgeous waltz at the Christmas ball. LOOK AT THIS ROMANCE!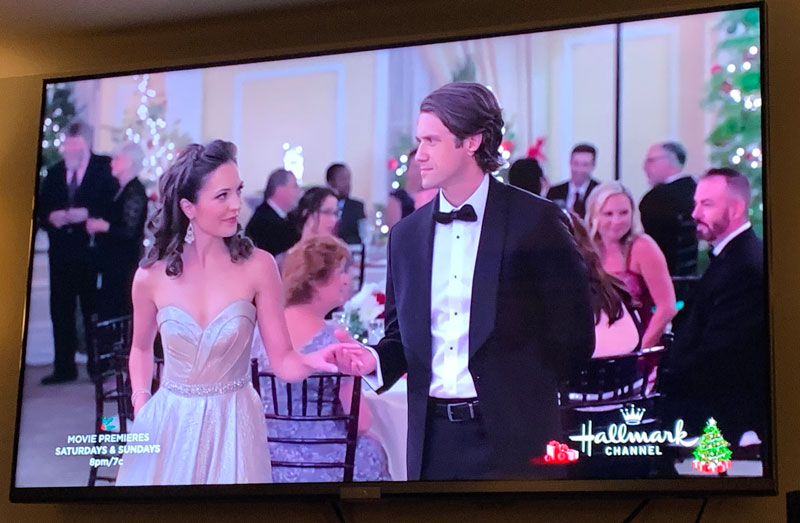 Laura Osnes and Aaron Tveit are two of the many actual Broadway stars that made this movie great. I wait with bated breath for One Royal Holiday Wedding and One Royal Holiday Baby and Another Royal Holiday Baby.
Sense, Sensibility, and Snowmen
Ella and Marianne run DashWorks, a Christmas Party planning business. Marianne is 150% dedicated to the business. Ella loves snowmen. Their parents are dead. Edward Ferris owns Ferris Wheel Toys, a toy company run by stodgy people who have forgotten the JOY of EVERYTHING. Edward has to put together a holiday party on short notice to impress some French toy store owners. Ella, who is supposed to be flighty but seems pretty normal, overhears Edward talking to his lawyer about this and offers to pull a party together in about a week.
Will stick-up-the-ass Edward find joy in anything? Will DashWorks pull this party off in such a short timespan? Will the party planners attend the party in glitzy gowns instead of running around in all black holding clipboards like actual event planners? Will there be a smooch 2 minutes before the movie is over?
Of course! (Like with Harry Potter, the world assumes we all have read the collected works of Jane Austen and can tell them apart.)
The Christmas House
Our Hero, Mike, is the star of "Handsome Justice," a schmaltzy television lawyer show that's facing the network's axe. His parents invite him and his brother home to have one final year of "The Christmas House" – a tradition where they put everything in the house in storage, decorate it to death, and open it up for tours. One final year? That must ONLY mean that the house is being sold. Of course. Secrets abound in this family, as the parents are hiding their own problems, the brother and his husband (welcome to the present, Hallmark) are hiding a potential adoption, and Mike is trying to hide his imminent unemployment. Oddly enough, only the weird, precocious child cares that Mike has a TV show. But everyone remembers him being a hacky teen magician.
Mike's former teen magician-assistant-girlfriend, Andi, still lives next door, so we know where that's going. This one left me kind of cold – no chemistry at all between Mike and Andi, the mother seemed way too weird and needy, and the House didn't really look that spectacular in the end.
Dash & Lily
Not Hallmark, but Netflix. Not a movie, but an 8-episode series featuring a bunch of New York teens with unfettered freedom and mucho disposable income. It's an adorable romp around New York City at the most wonderful time of year with a cute and diverse cast of actors. It's based on a YA book and I *still* enjoyed it.
Heart of the Holidays
NYC trader Sam doesn't like where the relationship with her boyfriend is going. What's more, he's suddenly the boss at her new job. She quits (!) and goes to spend Christmas with her (widowed) mom in her struggling hometown, where each of the seven or so residents is kind of passive-aggressive toward her for leaving and becoming successful. I mean, she is voluntold to decorate cookies for charity, and everyone mocks her cookies. Her ex-boyfriend, Noah, is the hangdog, sadsack cafe owner who makes Eeyore look fun and optimistic. We all know where this ends up, but in my opinion Sam should have gone back to New York and given it another go. The actor playing Sam, Vanessa Lengies, is adorable and I hope she gets another movie.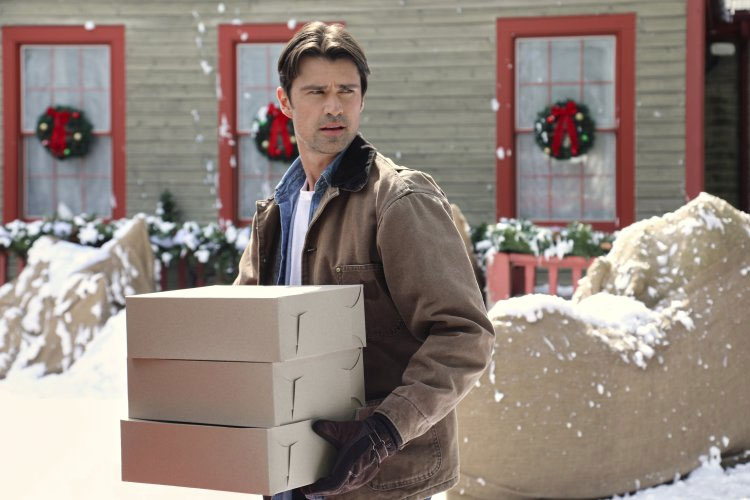 Christmas Town
Candace Cameron Bure leaves her life, job, and boyfriend in Boston to start anew. She ends up in Grandon Falls and, okay, this is a spoiler, but in the course of 3 weeks falls in love with hunky Mutt from Schitt's Creek, moves into a rental attic, gets a part time job, gets a full time teaching job and is approved to adopt a child she just met. Crazy-town.
Merry & Bright
Jodie Sweetin is the new CEO of Merry & Bright, the candy cane company her grandmother founded. Gabe is a Business Recovery expert called in by Merry & Bright's board to help the company start making a profit. Jodie and Gabe have a good crackling chemistry and of COURSE everything turns out great. There is also an adorable dog, and Jodie put more thought about whether or not to adopt a dog than Candace did on whether or not to adopt a child.
Christmas in Evergreen: Tidings of Joy
This is the third Evergreen movie (2019). I vaguely remember last one's which included church bells and letters to Santa. The residents of Evergreen are like a giant Christmas cult. The children don't ever seem to go to school. In this installment, they discover the town's time capsule which is actually a giant advent calendar built 50 years prior when the residents were snowed in. There are flashbacks to 50 years ago and as a 47 year old I'm offended that they're using sepia tones to indicate 1969. Our main couple is a jaded city magazine writer who's supposed to write an expose on Evergreen, and the hunky town librarian who wears clingy henley shirts beneath his coats. They don't have much chemistry. The B couple MELTS the screen though, which makes up for it.
Christmas in Rome
Lacey Chabert is an American tour guide in Rome who is more about the SOUL of Rome at Christmas than checking off tourists' must-see boxes. And she gets fired because of that. Enter Oliver, an American businessman in Rome who is in town because his big company wants him to acquire a weird little Italian ornament shop. But to woo the business's owner, who is LITERALLY named Luigi, he needs to understand the SOUL of Rome at Christmas. Luckily, he literally ran into Lacey earlier. Parts of this movie were actually filmed in Rome, parts were filmed in the Romanian town they use to stand in for "Europe" and parts were filmed in front of a green screen.
***
On the watchlist:
Christmas in Evergreen: Bells are Ringing, Love Lights, Hanukkah!, Holidate and Christmas on the Square (Netflix) and The Happiest Season (Hulu).