Today I am 48 years old. I don't know how this happened, because I still feel like a doofy teenager inside. However, my crackly knees loudly disagree.
Friends, year 47 has been pretty shitty, "highlighted" by health worries for me and others, racial injustice, a rotten Executive Branch, a tanked economy, and half a year spent hiding from a pandemic that this country lacks the leadership to manage. I've basically become a hermit, only venturing out for an occasional grocery shopping trip and curbside food pickup.
In order to try and put some good back into the world, I'd like to share my Facebook birthday fundraiser with you.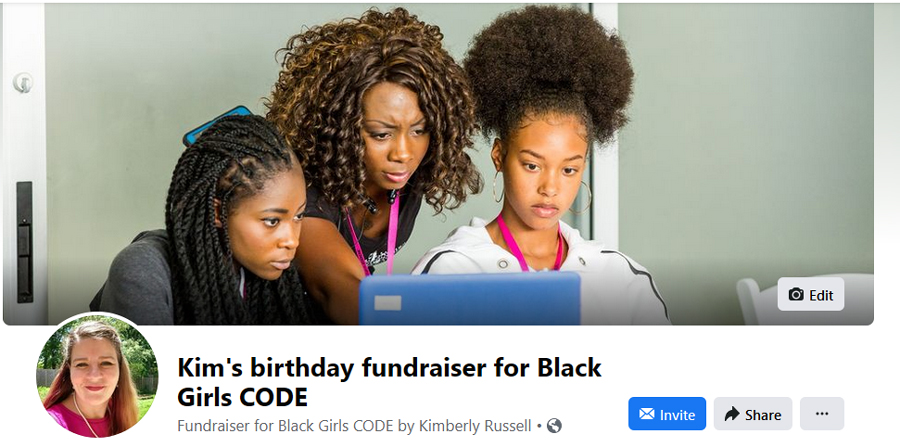 When I found myself suddenly off on Juneteenth after days of civil unrest across the country, I looked for a way to help elevate and amplify the Black community. I found Black Girls Code, an organization that exposes girls and teens of color to computer programming so as to increase the numbers of Black women in STEM in the future. I donated some of the money that I normally would have spent on transit, and set up a recurring monthly donation.
Learning to code changed my life. Literally. I had a worthless Bachelor's Degree (television/radio! hahahha!) and was working as the assistant for a petty tyrant when I bought a book entitled "10 minute guide to HTML." I taught myself to build web pages, which got me into the Courier-Post, where I could learn even more. Even though I don't build websites anymore, I have a tech-adjacent job, and it's because of coding.
But would I have purchased that book if I hadn't been exposed to computers in grade school? Probably not. Which is why an initiative like this is important, but hits close to home.
I'm only looking to raise $250, and I'm mostly there. If you have some extra cash in your pocket from not hitting the bars every weekend, please consider donating. If you can't right now, please consider finding Black Girls Code on Facebook or Instagram and like what they do.
Thank you! Here's to 48!