New look, new domain name, new host (thanks to a dear friend!) and same boring content and ZERO ads* — who could ask for anything more?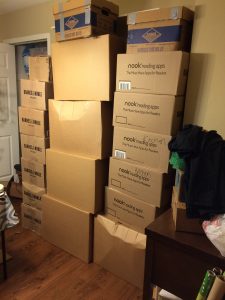 I have been slowly moving from ladygypsy to kimberussell as my online presence for two years now, and this beast was last to make the move. I could have gone with the name "Kim-estery" and called you all my "Kim Warriors" but my life is far too boring for that. So here we are.
Most of my posts are here, most of my images are here, but if I waited to be 100% moved over, I'd never launch. We'll be in this house on Literary Lane 2 years in June, but I still get confused as to which light switch by the front door operates which outside light. (The neighbors likely think I'm flashing Morse Code messages.) I expect things here will be just as weird as I get more comfortable.
This new WordPress theme should work on all browsers and mobile devices. I'll be creating a sitemap and figuring out feed issues next. I should let Google Analytics know I have a new site. And the footer menu is ugly. Don't know what to put there yet. I'm streamlining tags and categories, but only because all of the posts picked up the "miscellany" AND "uncategorized" categories during the migration and I've been correcting those over the last few weeks. Only 862 more posts to go. Hooray!
Welcome to kimberussell.com. I think you're going to like it here.
PS: Since everything here is new, your comment might go into a queue instead of being immediately approved.
*because nobody wants to advertise here because I go 3 months in between posts.